It doesn't matter how pulled together your outfit is, if your hair is in the same ponytail you slept in. The same goes for art. You could have great furniture and a beautiful home, but if the art isn't on point, it just doesn't feel put together.
Art can be tricky though. It can take time and / or be really expensive. So, I am going to take you through my process for art selection and give you a few tips and sources along the way.
Commissioned pieces are really special. They can definitely make a space. It also allows for the client to really express their desired aesthetic to the artist and then have the artist bring it to fruition with their talent. It's a very cool process to be a part of, and I think if you can make room in your budget for it, the pieces become invaluable. A few of my favorite artists for commissions are Emily Herrera and Heather Essian.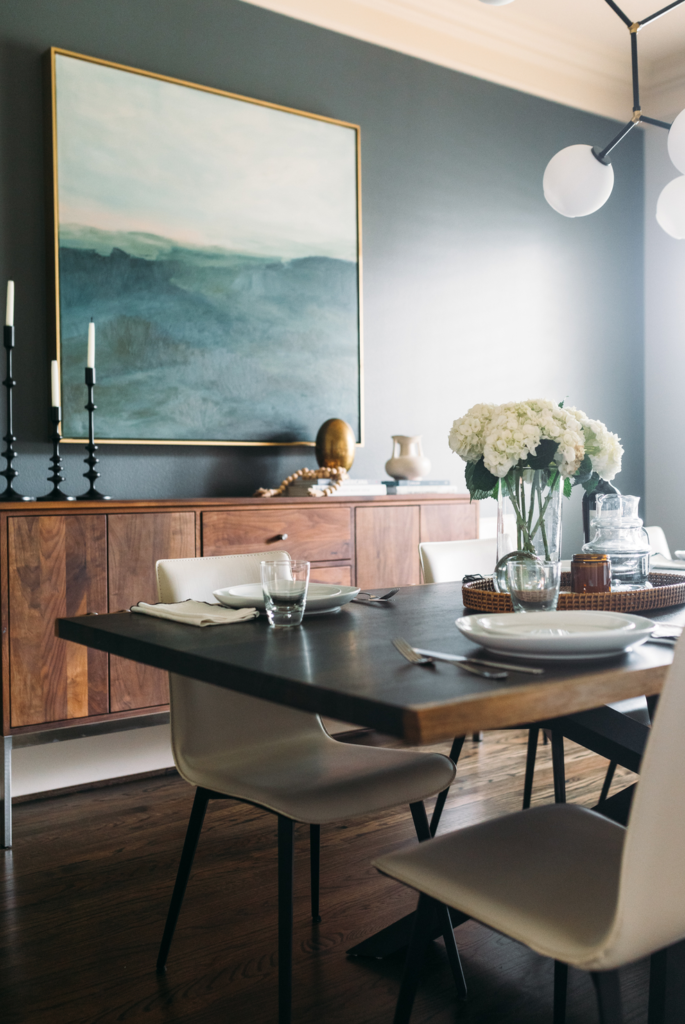 Sometimes you don't need to commission to find something really special to you. Sometimes you just stumble upon something really great that speaks to you. I always tell clients to keep an eye out when they're traveling for cool pieces. Your art becomes even more memorable when there is a story to tell about a fun trip or a special experience.
Most of our art were things that I have curated over time that I thrifted. This obviously saves a ton, but requires an open mind. In most of those cases, I didn't have any preconceived idea of what I might find. Rather, I just let things speak to me. If I love it, I buy it. That is really over simplifying obviously – now, I need to have a specific place for it and I allow myself to think about it for a few days before pulling the trigger. This ensures that I really love it. Case and point? The architectural prints in our Dining Room. I spotted them at Consignment Heaven and  knew they were a really good find. They weren't what I had in mind for this spot, but they definitely spoke to my general aesthetic. I took them out on loan and decided not to waste too much time worrying that they were the exact opposite of what I thought I wanted. They were the perfect size and beautifully framed (which is half the battle) and I loved them.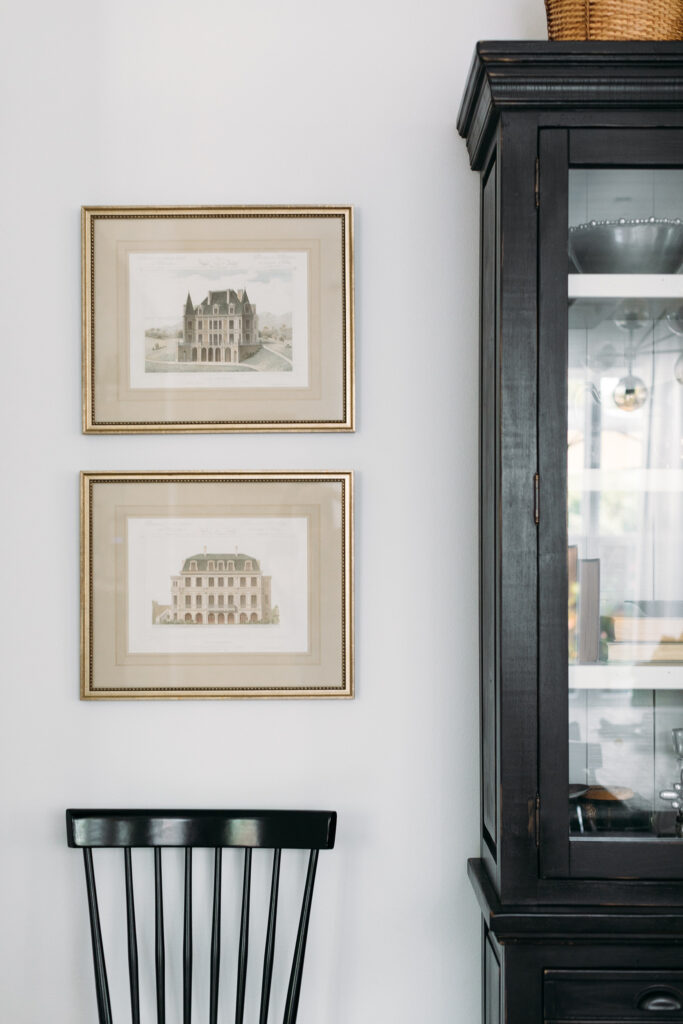 Mass produced art often has a bad reputation. I agree that finding something unique is always a better approach. However, design sometimes calls for something really specific or maybe I need to fill in a gallery wall with some intentional pieces. Juniper Print Shop is one of my favorite sources for printable art. Be prepared to frame them yourself, but I have a great metal frame with real glass that I've sourced on Amazon for you below. Minted is another good option and they can come framed! I find their frames to be good quality and I like the sizing options available.
Now that we've talked about art sources, how do you choose art for your space?
My general 'rule of thumb' is to not repeat compositions within the same space (gallery walls excluded). For instance, an abstract on every wall starts to feel a bit institutional. Family photos on every wall can date really quickly. Abstracts paired with family photos in the same space feels balanced and well thought out. Abstracts can be a palette cleanser, transitioning the eye from one piece to the next.
It's no surprise I love a good gallery wall. I don't think there is a better way to cover a large space on a dime. But I try to be really intentional about gallery walls too – one on every wall can get claustrophobic quickly.
For the gallery wall in our living room, we had lived in two different houses before this one so I had practiced a few iterations prior. I collected my favorite pieces and then filled in with a few abstracts to get the color palette how I wanted it. For a tutorial on how I install gallery walls, there is a highlight on my Instagram page. Moral of the story is, I took my time collecting and as a result, am super pleased with this wall. Most pieces have special stories and I can remember where each thrifted piece is from.
Art is meant to be fun and not taken too seriously. So have fun with it! Make a bold statement and push the boundaries. Don't be afraid to hang things in non-traditional ways or lean a cool piece in your kitchen. And if you're still stressed, I have a stock pile of acrylic easels (linked below) that are perfect for styling in a non-committal way.
Below, I've rounded up some of my favorite pieces and tried and true finds. Happy hanging!
SHOP THE POST
[show_boutique_widget id="1007099″]
XO, Aubrey