My husband and I first went to Morocco back in 2014. We knew we wanted to start a family, so we wanted to take a big international trip before doing so. We spent 4 days in Paris and another 3 days in Marrakech. Marrakech totally blew my mind. It was wild, exotic and unlike anything I had ever experienced. We had just bought our first house and had planned on a bathroom renovation. Cement tiles were just starting to become popular and of course, I had my eye on a few. Kale suggested looking for a fabricator to buy the tiles direct while we were in Morocco.
Kale hired a guide for that first trip named Abdul. Not too long into the first day we asked him about the tile situation. You could tell he was a bit thrown off guard but came back the next morning with a couple of places to stop and check out. We didn't end up buying anything while we were there. However, Kale kept at it and soon enough, a palette of tile was headed to us.
That first pallet of cement tile turned into two pallets, which then turned into a container, and before we knew it – Riad Tile was born. It felt like within 5 years, we had three kids and a surprise new company. Our product line expanded to include zellige as well as a few other things from various countries. Kale maintained a relationship with Abdul the whole time. Becuase we have young kids, we never felt like we could step away from home life to go visit factories and then of course, COVID happened.
Our youngest is almost 5 now though, and they're such expert travelers. We felt like it was the right time to get back to Morocco. The zellige factory we work with in in Fez, which is about an hour flight from Madrid. Fez is the capitol of craftsmanship. Tiles, rugs, ceramics, textiles – you name it, it's made there. The first 2 days of our trip would be spent in Fez, exploring the city and touring the zellige factory.
Fez is much smaller than Marrakech. We found an AirBNB close to the center of the Medina. We had a jam packed full day there, spending a half day at the factory and then the rest of the day getting a tour of the city. Did you know Fez is the home of the world's oldest university, which was started by a woman? HEYO! Seeing the factory was amazing. Watching how zellige is made really gives you a whole new perspective on the material. It's meticulous, time consuming work. It's the attention to detail that makes it so special though.
After the factory tour, we spent some time in the Medina. We tried a slew of Moroccan desserts, which were all delicious. Moroccans do desserts right! Perfectly sweet and balanced. Of course, the Medina was busting at the seams with the most beautiful things. I bought some amazing metal pieces, leather boots and a few gorgeous Berber rugs.
We finished our trip with the family who owns the zellige factory. They invited us to dinner at Les Saveurs de Riad Yes Maya for a traditional Moroccan meal. Typically, dinner starts with a round a salad, which is seems like a tapas style variety of vegetables. Then came the tangines! We ordered both chicken and beef. The chicken Tagine is usually served with root vegetables and the beef with beets or prunes. Both turn out deliciously tender. For the third course, we tried B'Stilla. B'Stilla is a dish made with a thin pastry, hand rolled with meat. Usually now, it's chicken or ground beef. However, we had the traditional style with pigeon. I think most Americans might pre-judge this dish, but I highly recommend it!
The next day we flew to Marrakech. I was so curious to see how the kids reacted to such a vibrant city. The old city center, or Medina, is BUSY to say the least. Imagine sharing a sidewalk with motor bikes, regular bikes, pedestrians, likely a mule or two, sometimes a tractor and street cats. All going different directions. Our kids adapted quickly though and learned to stick to the right side of the path to avoid the motorbikes whizzing by. Our AirBNB was perfect. It was right in one the edge of the Medina, about a half mile walk to the main square. It was also one of the few vacation rentals with a heated pool which proved to be a nice reprieve for our kids to break up the day.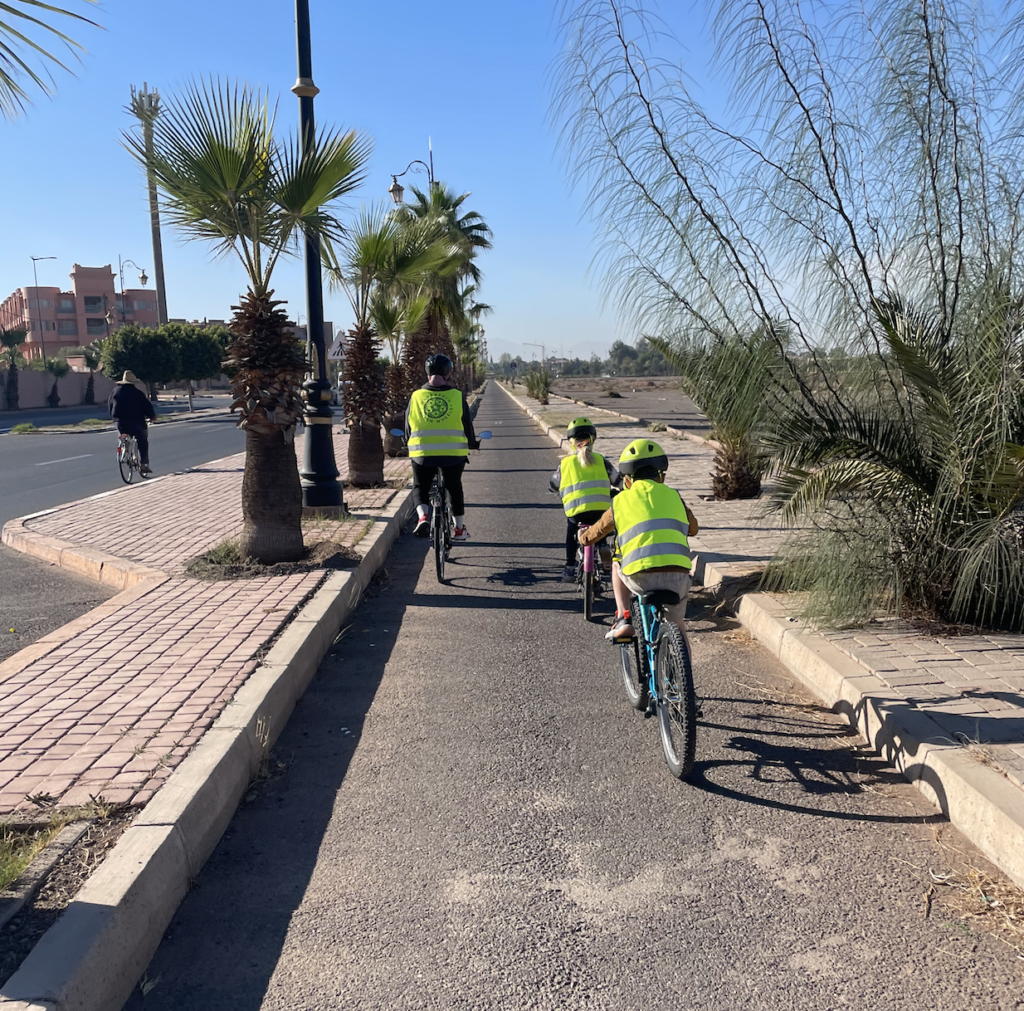 We started the week with a bike tour. Our kids are great bike riders, but we still played it safe by touring the less busy 'new' part of town. In Morocco, 'new' is considered anything after 1912, which is a bit different than our definition of new. It was still a nice time, riding through parks and down wide grassy medians. It was an area I hadn't spent much time in, so it was good to explore. Without kids, the tour focuses more on the Old Medina. Our guide shared that this can be dicey with small children, so she preferred a slower pace.
After the bike tour, we visited the famous Majorelle Garden and YSL Museum. I'd recommend buying a combo ticket so you can start at the YSL museum and end in the perfectly manicured gardens. There is also a section of Berber history that I found really interesting too.
The next day, we did something pretty cool that we've never done before – took some family vacation photos! I am usually the one taking the photos, so I was pleasantly surprised when Kale suggested it. We booked it through the experiences section on AirBNB. It lasted an hour, which was perfect for three busy kids. The photographer knew the best quiet corners of the Medina and kept up with our kids' energy. All in all, well worth it. I was very thankful for the experience!
Our friend, Abdul, was also with us in Marrakech. We had first met him without kids and here we were 8 years later, with 3! He took off the whole week to spend some time and guide us through the city. The full circle moment was pretty special to us. One afternoon, he picked us up and we headed for the desert to do a quick ATV tour. The kids loved it – they even got to drive! From there, Abdul took us to a ceramics shop for a worksop called Lamastay. Lamastay was started by two women who wanted to carry on their ancestors tradition of working with clay pottery. We started with hand molding clay and then tried the wheel. This is so much harder than I thought! Our youngest son happens to have quite a knack for it though, which was fun to watch.
After pottery, Abdul hosted us at his family's home for dinner. His mother cooked an amazing traditional meal and sat all the kids down to eat together. Our kids fit right in and they were all getting along and playing before we knew it! Watching our kids play and laugh with children from another culture, with language differences (most Moroccans are bilingual, sometimes trilingual!) and in a new environment was really the coolest thing. It makes you realize how similar we all really are, despite being in different continents. It was such a beautiful night, one that I won't soon forget.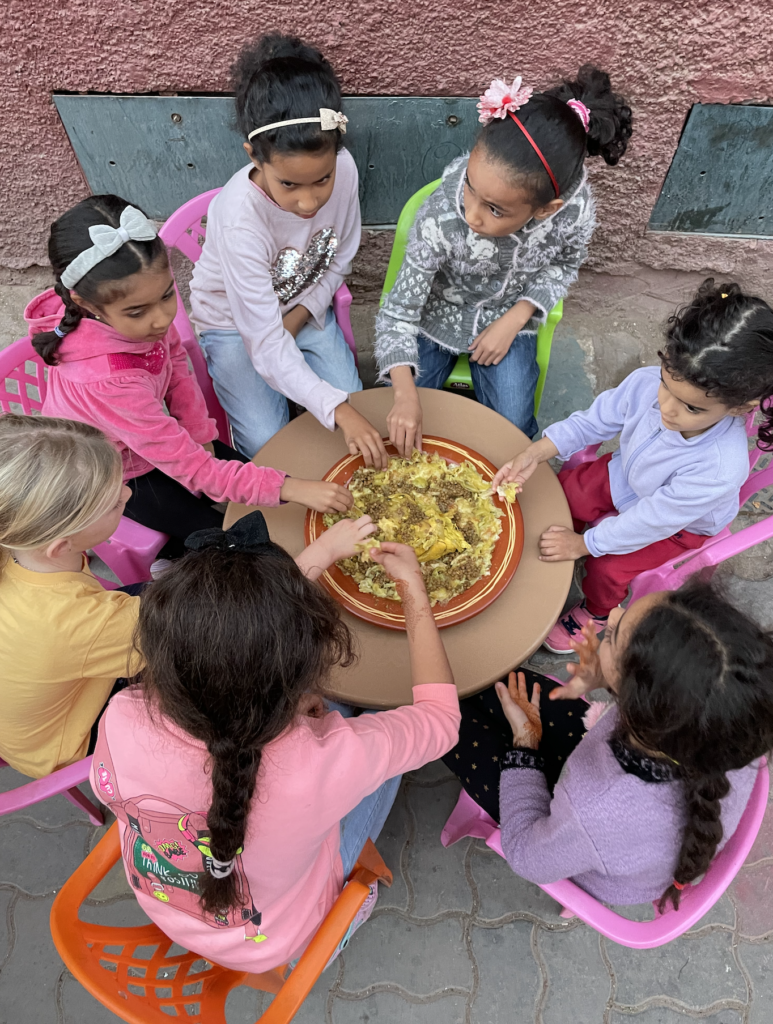 We ended our trip to Morocco with a trip to the Atlas Mountains. I really wasn't sure what to expect, but the landscape was absolutely breathtaking. The leaves had changed colors and the rivers were running – it was really a nice way to close out the trip. We stopped at an argan oil workshop ran by women from a Berber tribe. If you haven't heard of argan oil, you are missing out! It is the most luxurious oil for post-shower, hair, nails – it's even edible. The Berber people use it as a replacement for olive or other types of oil. The difference is that it is very light, so the consistency is pretty unique.
Obviously, a huge appeal of making the trip to Morocco are the GOODS. The ceramics, pottery, textiles, metal, etc. – the variety and quality are second to none.  You could spend a whole week in the Medina and still not see everything there is to see. It is truly incredible, and also a designer's dream. I'm sure you're also wondering what the prices are like. It is less expensive in Morocco. However, prices aren't typically listed because bartering is expected. So I would suggest doing a bit of research first (especially with rugs) so you are educated in your pricing. Also, don't be afraid to lean on your guide! While they likely won't interject during your bartering, they can provide some insight going in. Stepping on toes would be considered disrespectful, so they often stay out of it unless they are close friends with a particular vendor.
The other thing I think is so unique to Morocco is that they are very accommodating. They are totally used to shipping anywhere in the world. They'll even bring your purchases to you so you don't have to carry them throughout the day. One afternoon, I picked out a piece that happened to be broken. The blacksmiths fixed it and then delivered it to Abdul while we were still shopping. They are definitely a 'take the bull by the horns' mentality.
Morocco is such a special place and I look forward to going back very soon. The people are friendly and hospitable, the food is delicious and the atmosphere is so unique. If you decide to plan a trip, I highly recommend booking our friend Abdul for a guided tour of Marrakech. Of course, if you have any other questions, don't hesitate to reach out.
To shop my suitcase, CLICK BELOW:
[show_boutique_widget id="1177497″]
xo, Aubrey