The Gilded Heights Brand Story
Creating a brand is something I knew very little about initially. Luckily, I had a great support system and a supper talented friend (Tracy of Tracy Melton Artistry) who had been down the branding path before who was such a great guide through the process. She also referred me to my branding consultant, Doodle Dog Creative, who was the force behind taking my ideas and making them come to life.
The hardest part? What to name it. I knew from the start I didn't want to use my name, Dallas or the word 'Interiors' anywhere in the name. Why? Well, I didn't want to be pigeonholed. Rather, I wanted the name to be vague enough so it could be associated with any number of clients, projects and ventures. 'Gilded' was always in the running. To gild something is to apply a thin layer of gold to a piece, typically furniture or fixtures. It also means to 'give an often deceptively attractive or improved appearance to'. Yep, seemed fitting.
The second part of the name was quite a bit harder to nail down. I tossed around a lot of ideas, again, trying not to be too specific. It was at a lunch with my friend that 'Heights' came about. We were brainstorming options and she suggested I use the name our neighborhood (Junius Heights) somehow, more for sentimental reasons. Junius obviously didn't sound right, but Heights had a ring to it. I immediately liked it and knew it was the direction I wanted to go.
Doodle Dog Creative liked it too, so they took it and ran with it. They made the process of creating the logo, website and collateral really easy. It also helped that they really seemed to get the look I was going for. To help communicate what I wanted the style to be, I created a Pinterest board for them to use as a guide.

I didn't want the website to feel decidedly feminine or masculine, but rather a good mixture of both. We also stuck to my deep rooted love of black, white and gold. It needed to nod to vintage but also feel fresh and current, which also speaks to the Gilded Heights design aesthetic.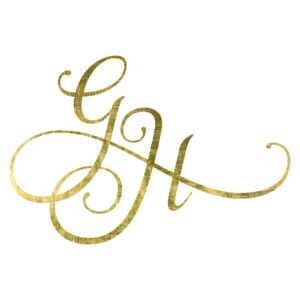 The whole process took just a few months. I made a few subtle tweaks, but was overall really impressed and surprised with how easy Doodle Dog Creative made it. They recently did a blog post of the Gilded Heights branding journey from their end. To read more about their creative process, click here.
I'm really proud of how it all turned out and still on occasion like to refresh my homepage just to make sure it's still there (and really happening!). I'm sure in years to come there will be revisions to refresh the website's look, but I couldn't be happier with how the branding unfolded.
XO – Aubrey