Project Update: Broken Bow
It's really happening! Our little cabins in Broken Bow are moving right along. Cabinetry is starting to install and tile goes in next week. What the heck is Broken Bow you ask? Well, if you don't know, you should start here.
For our four, smaller, three-bedroom cabins, I really wanted something that touched on Mid-Century Modern lines without being too obvious. An efficient floorplan was the driving force and of course bringing the outside in. I generally gravitate towards contrast and darker tones, so this would be a common theme throughout.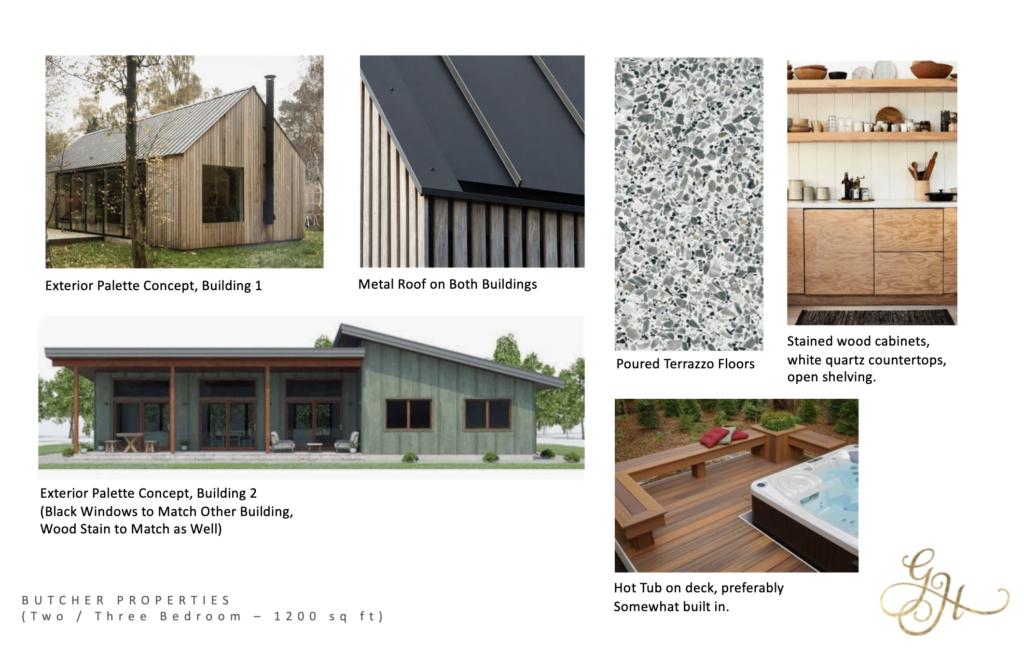 Keeping the architecture simple keeps construction costs streamlined. We're fortunate to be able to add character with Riad Tile selections throughout. Of course, owning a tile company is great for building projects like this, except for when stock is an issue. Anyone who has tried to order anything home or furnishing related over the past year can probably attest to lead times being a real headache. Importing goods right now is not for the faint of heart. The tile scheme has changed multiple times much to my dismay, but I can't complain when I genuinely love everything we carry. I know regardless of where we started compared to what is being installed, it will strike the right chord.
So where are we at currently?
We have four of these smaller cabins. Each will have an identical floorplan, but with a slightly different finish out. Perfect for multiple family vacations! They are spaced out far enough from each other so you won't feel like you're on top of your neighbor.
The bathrooms don't look like much currently, but those little round windows make me very happy!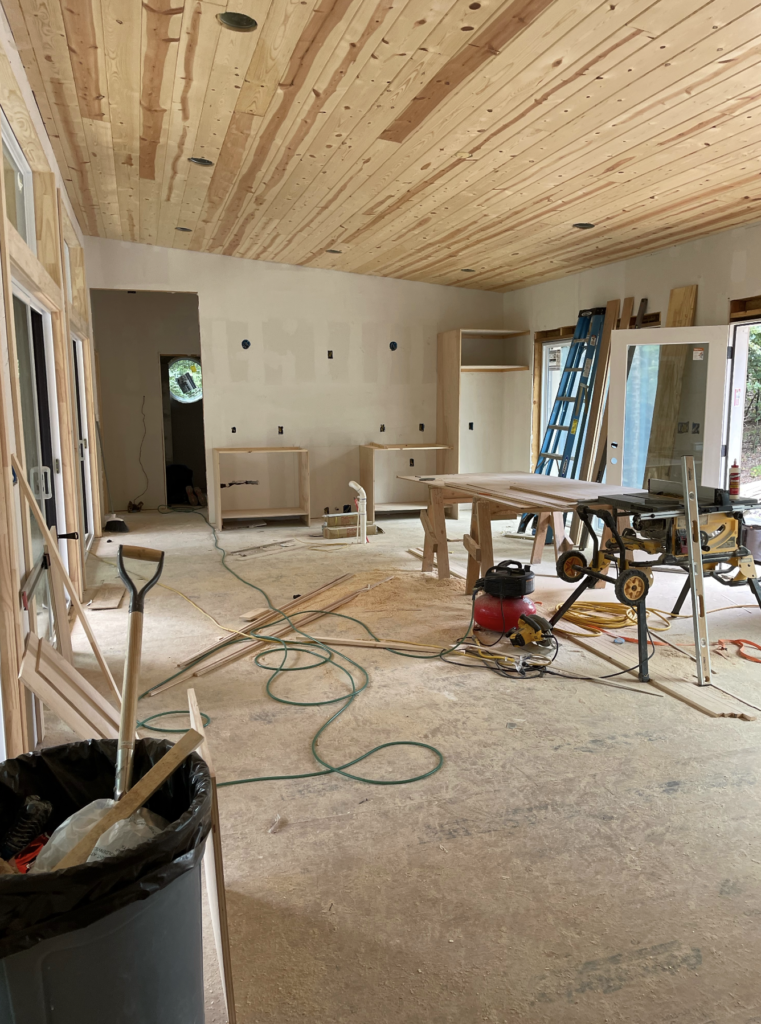 We'll have a big island and antique inspired pine dining table. I saved on light fixtures in the bathrooms, but purchased a large pendant for over the dining tables that I am very excited about! It's been one of my favorite, classic, Modern pieces for a long time and this seemed like the perfect fit for it.
I set out to source antique and thrifted furniture as much as I could, and I am feeling really good about where we're at. I mixed in some new pieces, specifically upholstery, but really wanted the cabins to feel collected rather than styled from a big box store. Which should come as no surprise since I mix and match a lot for my own clients and personal home.
I purchased a huge chunk of furniture in Round Top earlier this spring. Everything was photographed and put into a digital inventory. Then I sat down with a floorplan of each cabin and started placing furniture, keying it, and cataloguing. The catalog was then shared with my receiving warehouse so they know what piece goes where when we go to install. The hardest part was sourcing specific pieces that were needed – it took quite a bit of editing and a lot of ground work in local antique stores, which you know I am more than happy to do!
Normally, I put together digital presentations for clients so they can see a visual representation of how it all looks together. I ended up putting this together pretty late in the process when I started to purchase upholstery. It's such a useful tool (even for designers) to make sure the aesthetic is on the right track. Here is my not-so-clean digital spread of one of the cabins to give you a feel: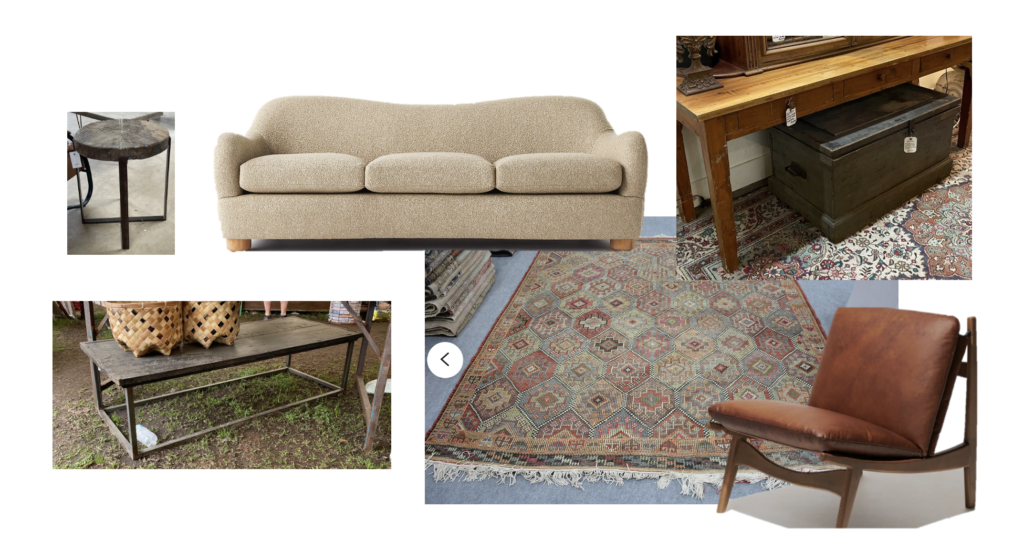 My favorite part is that some of my favorite vintage vendors around Dallas ended up contributing to how it all came together. This Dallas design community is pretty special. I would get Instagram messages from vendors who spotted something that reminded them of our Broken Bow projects to see if it was something I was interested in. To which I'd usually respond, 'YES! That is amazing!'. It's been a labor of love putting the furniture together, and likely way more work than it needed to be, but I wouldn't have done it any other way.
The big cabin can't be forgotten either! While we haven't settled on names for the smaller four, the larger cabin is called Idyll Haus, inspired by its modern Scandinavian edge.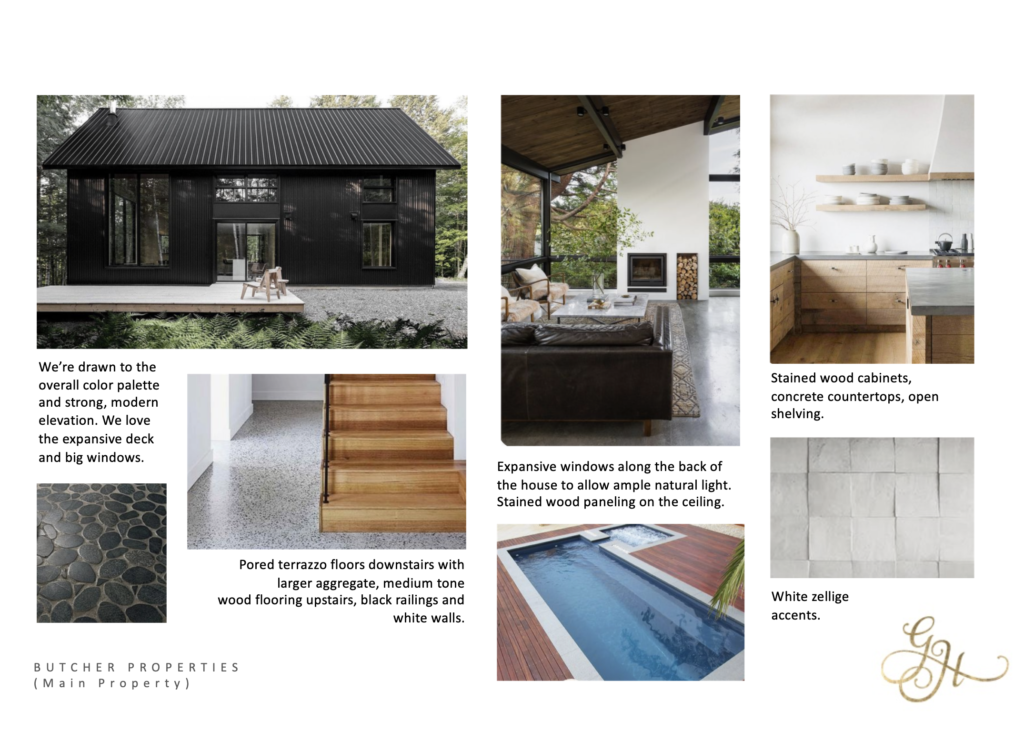 We really wanted this to have a bold impact when you arrive. Obviously the dark color palette really brings it home, but the scale of the facade is pretty striking too. Don't let the dark envelope fool you, the interior is light and bright. We're thrilled about how this space is coming together too and can't wait to warm it up with lots of natural textures and refined materials.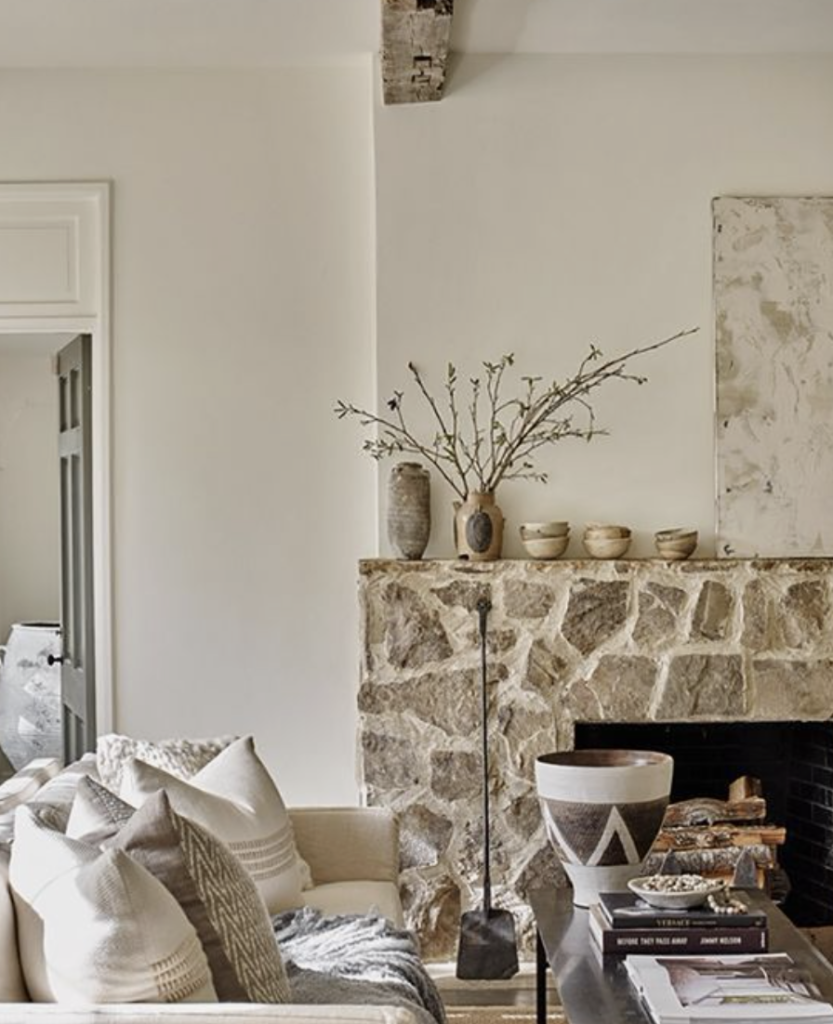 This inspiration from Atlanta Home really speaks to how we were looking to incorporate natural materials and layer neutrals to keep it fresh, but cozy.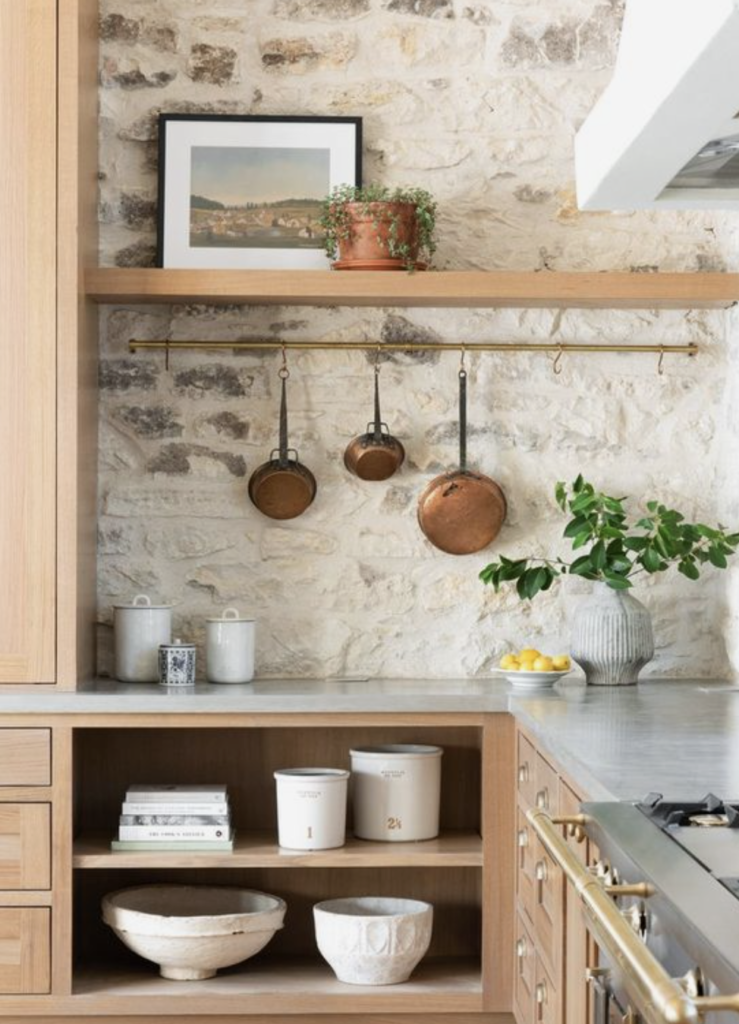 I have some kitchen shelves planned and I've been hoarding tchotchkes since last November for them. I basically have the anxiety of a racehorse at the gate, I am so ready to be let loose on these!
We are thinking the smaller cabins will install sometime around October and Idyll House sometime before the end of the year.
Talk about a first impression!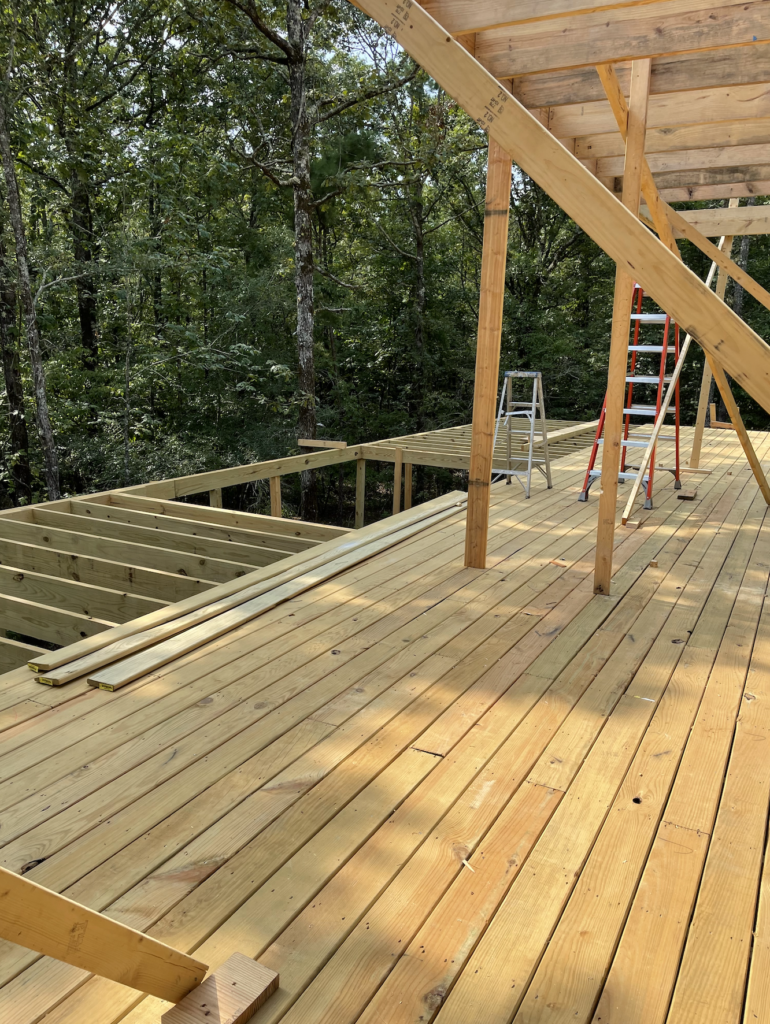 We have a big back patio planned with both a hot tub and a pool!
Looking up into the second floor from the Living Room.
GAH!!! Can you picture it? The whole corner is windows looking out into the woods. The natural light is going to be insane.
Broken Bow has, and continues to be, quite the learning process. My commercial design experience prepared me for an out of town build, but even despite that, there are some logistical and regional challenges that have made things interesting. Between getting trades to drive the 3 hours to work on things and lead-times being crazy, we're slightly behind on our (probably pretty aggressive) timeline. That said, we're powering along and keeping things moving as efficiently as we can.
Looking forward to another update soon! The Cabin Collection will be renting these out as soon as they're completed, so be sure to follow them for updates and information on other great Broken Bow stays as well.
XO,
Aubrey