Project Highlight: The Clermont House
This particular client reached out to me early 2021 wanted to revamp her historical home into something that was more functional for her family. The house itself is super cool – built in the 20's in the East Dallas neighborhood of Hollywood Heights. In fact, the architect who developed Hollywood Heights actually built this very house for his own personal use. Needless to say, there were some very cool details that we wanted to maintain. The previous owners had done their own DIY renovation which wasn't bad, but it wasn't great. I'd venture to say that it didn't really do the home any justice.
Our main objectives were to lighten up the kitchen and maximize the space as much as possible, carve a pool bath out of the guest bedroom and renovate the original primary bathroom so that it became a better use of space. To kick things off, I took measurements of the entire back side of the house to create an 'as built', or existing floorpan. From there, I started many reiterations of potential layouts to try and achieve our desired goals. With any renovation, especially in historic homes, you can almost bet on a few hurdles once demo starts. This was absolutely the case here, but we adapted and made it work to our advantage. Ultimately we worked through those challenges and arrived at a layout that we all felt strongly about.
My favorite thing about this client is that at our first meeting, she said she loved 'quirk and color'. My job was to make sure that their joyful energy was apparent in the overall design, but in a timeless way. They trusted my instincts here and every time a new idea presented itself, we talked through how to incorporate it in a way that made sense.
Case in point – the pool bath tile. I had originally proposed a lively wallcovering and matching drapery fabric. She messaged me one day and said that she had fallen in love with this particular tile in Bishop Arts and wanted to know if I could find something similar. Low and behold, when the text came through, it was a tile we (as in Riad Tile) had made custom for the Bishop Arts development. We immediately made that our jumping off point for that space and it is so fun and lively!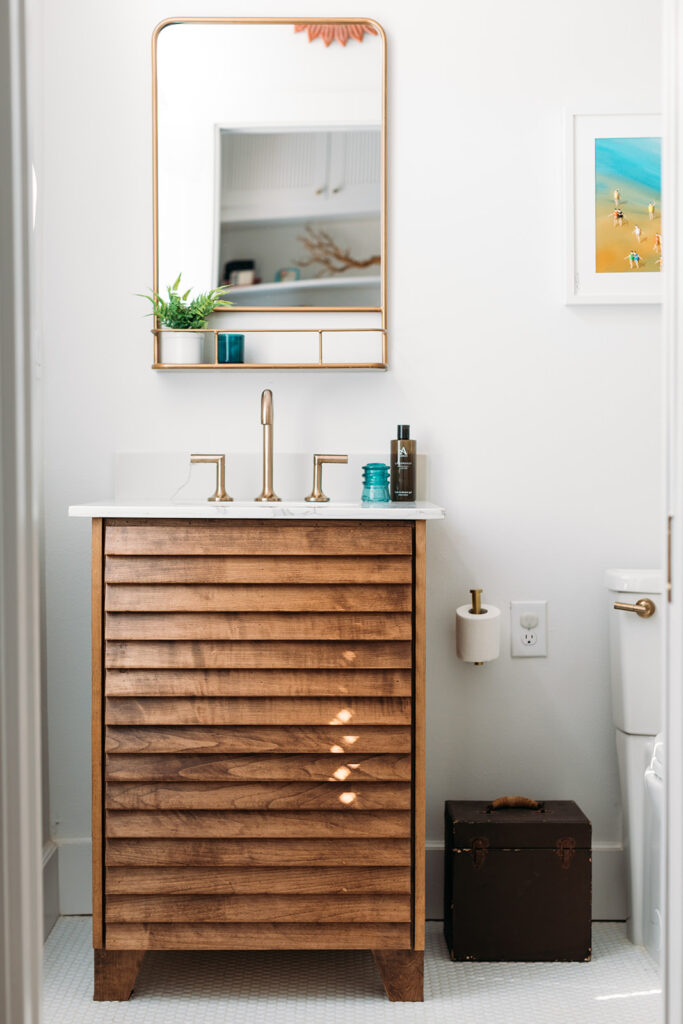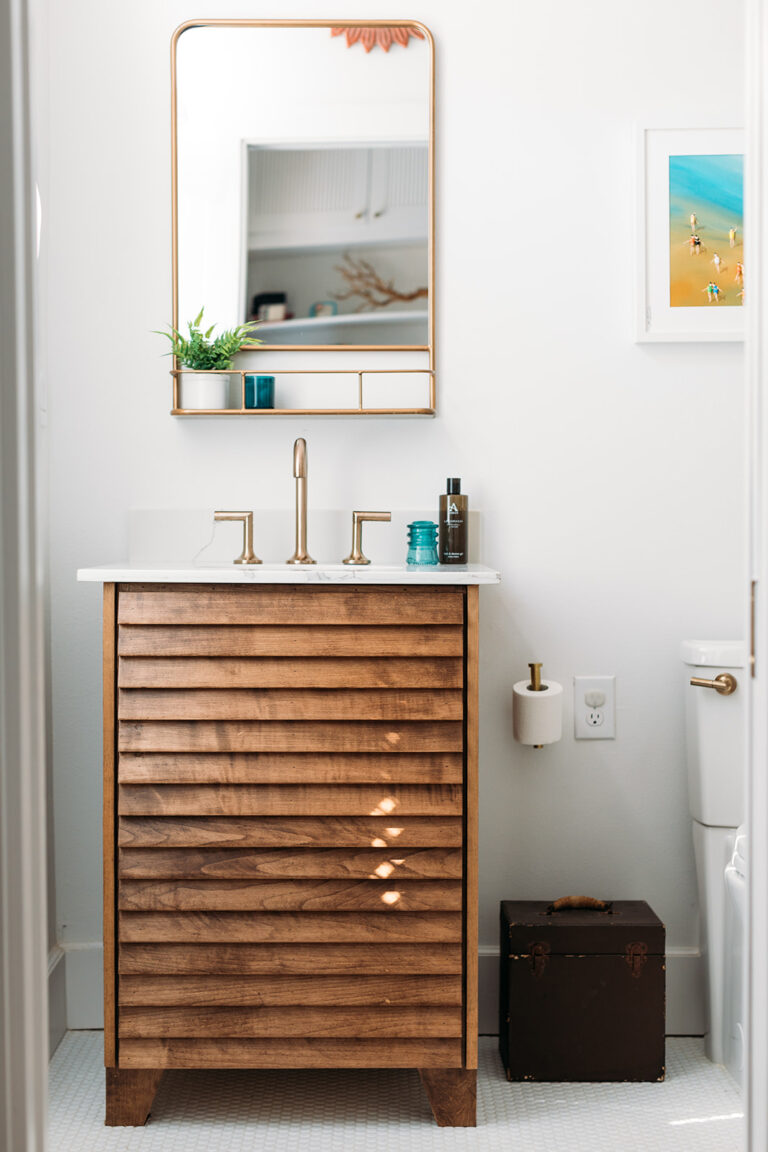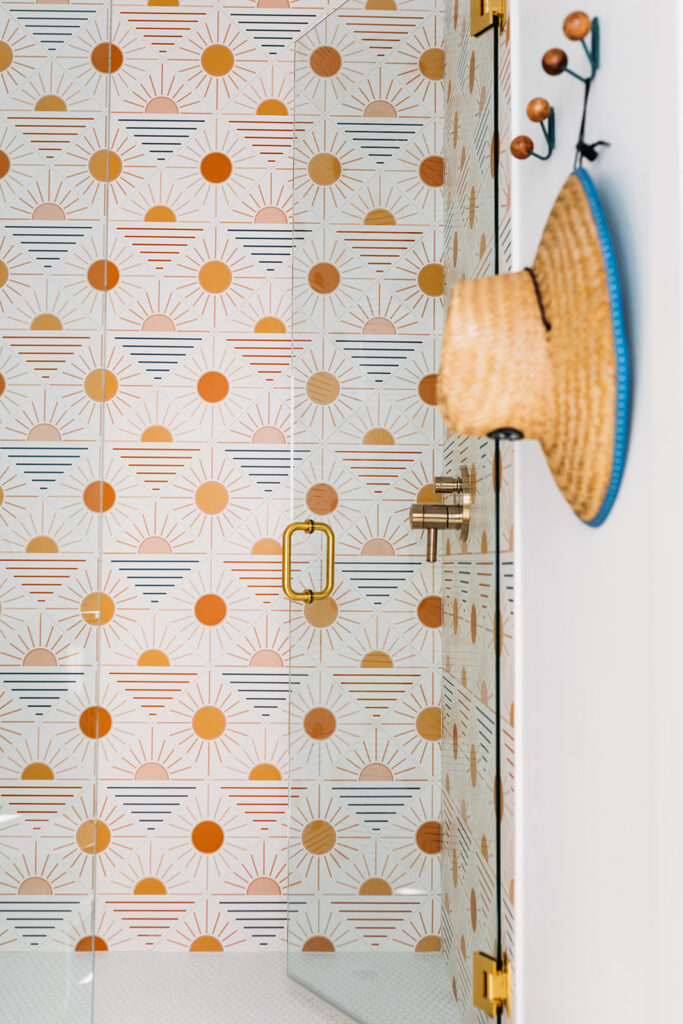 I'll admit the kitchen was the biggest challenge. The original space was a choppy layout and dark shiplap. Blowing it all out was a no brainer, but trying to encompass the existing bay window and brick chimney stack adjacent to the range was another story. The client called a few weeks into construction and told me she had an idea. She had a family member who made custom stained glass and asked if I would draw a sunshine for their kitchen transom. That sweet detail really brings the whole thing together! It's basically a night and day difference from what it was originally, but it's truly the happiest space.
The finish palette for the Primary Bath seemed to come together really smoothly. I had been itching to do something subtle and fun with our zellige tile and pitched the idea of a tonal stripe with our Snow White and Natural White colors. To be perfectly candid, I didn't think it would fly. I knew that this was the project to propose something a bit edgy and quirky, and I loved the thought of it for their slightly boho aesthetic. Luckily, they loved the idea too and I am so glad they did because it's one of my favorite tile installations ever.
This project was not without it's struggles. We ordered plumbing right as the delays ramped up and then proceeded to wait SIX MONTHS for plumbing trim. Then, when it finally did arrive, Brizo sent the wrong things. A Brizo engineer had to FaceTime and look at the already installed valve to determine that they hadn't fabricated the trim correctly and that it wouldn't fit. All of that to say, construction can be a beast. This family was living in their 500 square foot back house and caught COVID during this whole thing! However, they stayed positive and kept their eyes on the prize.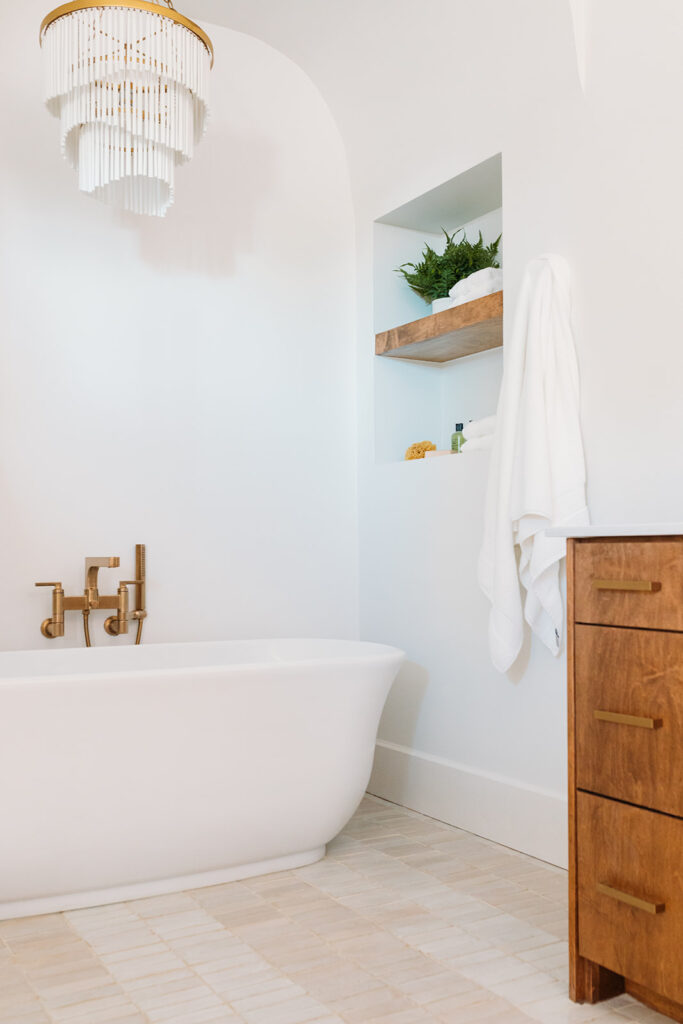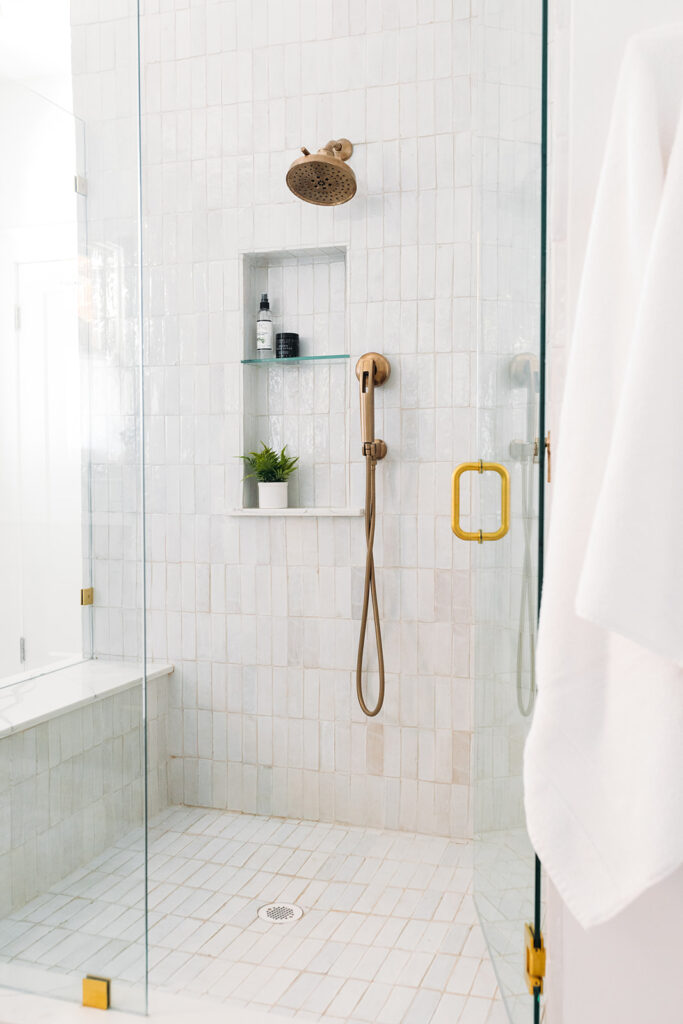 I love how this project turned out and how it embodies their fun personality and style. For a few before and after pictures, see below.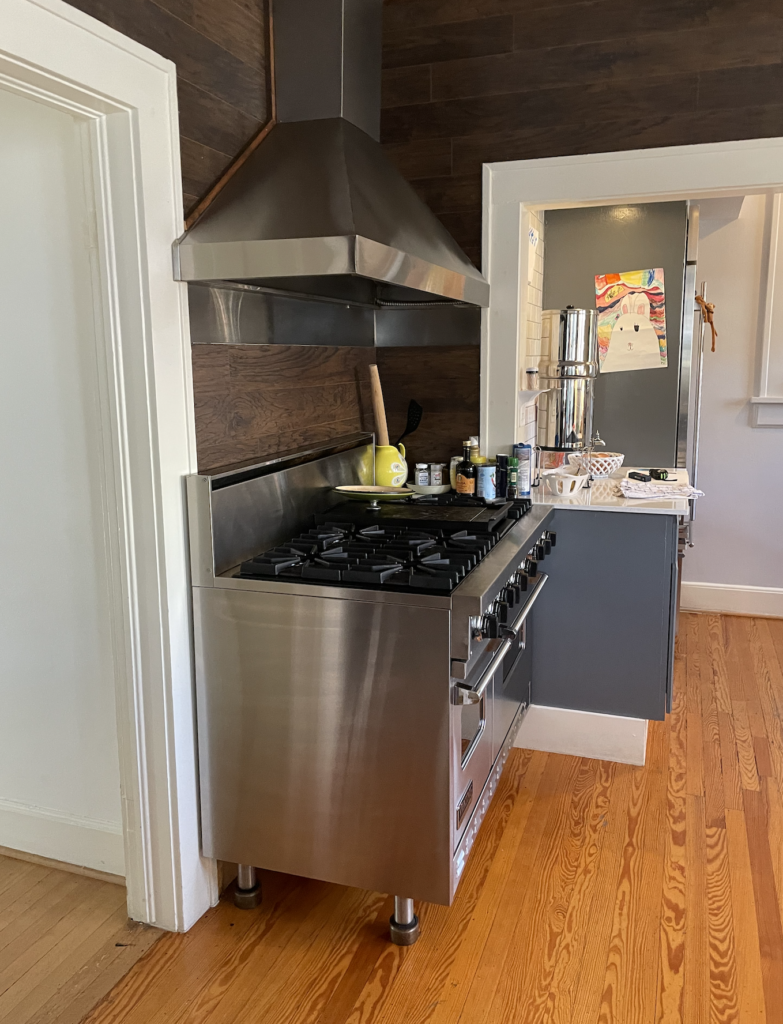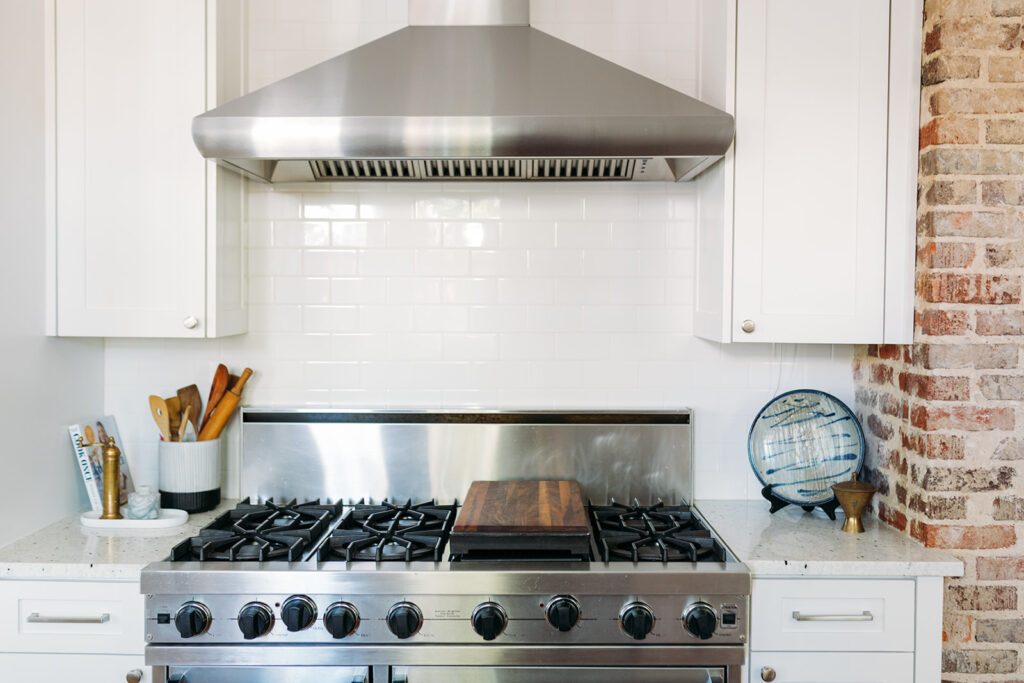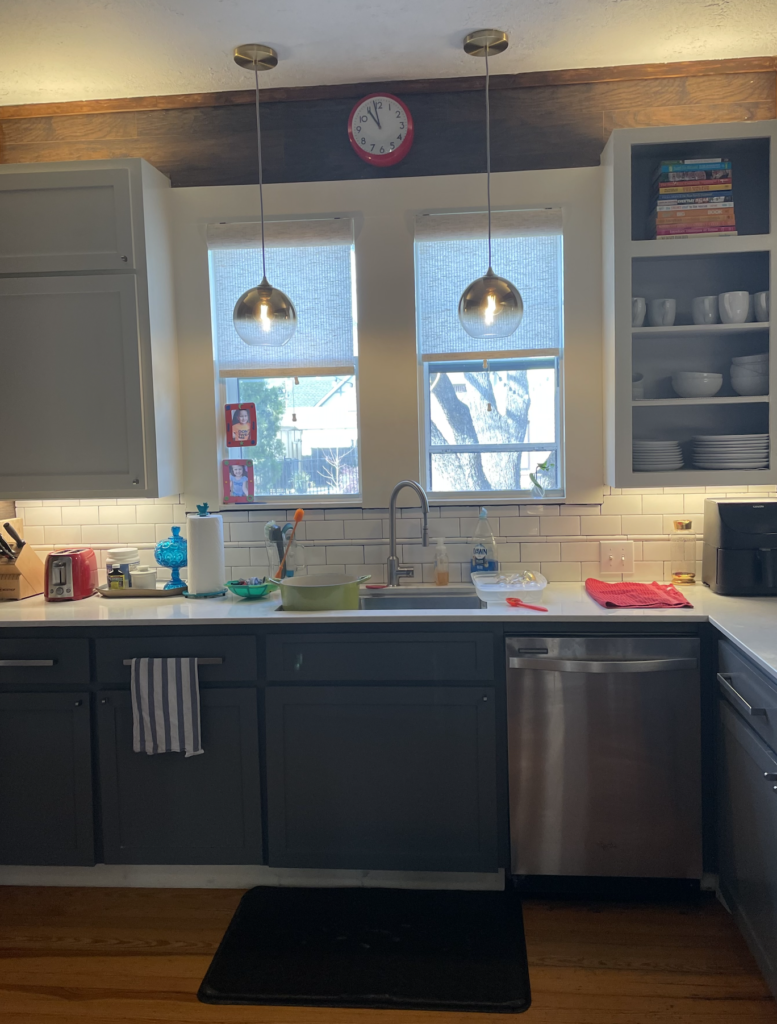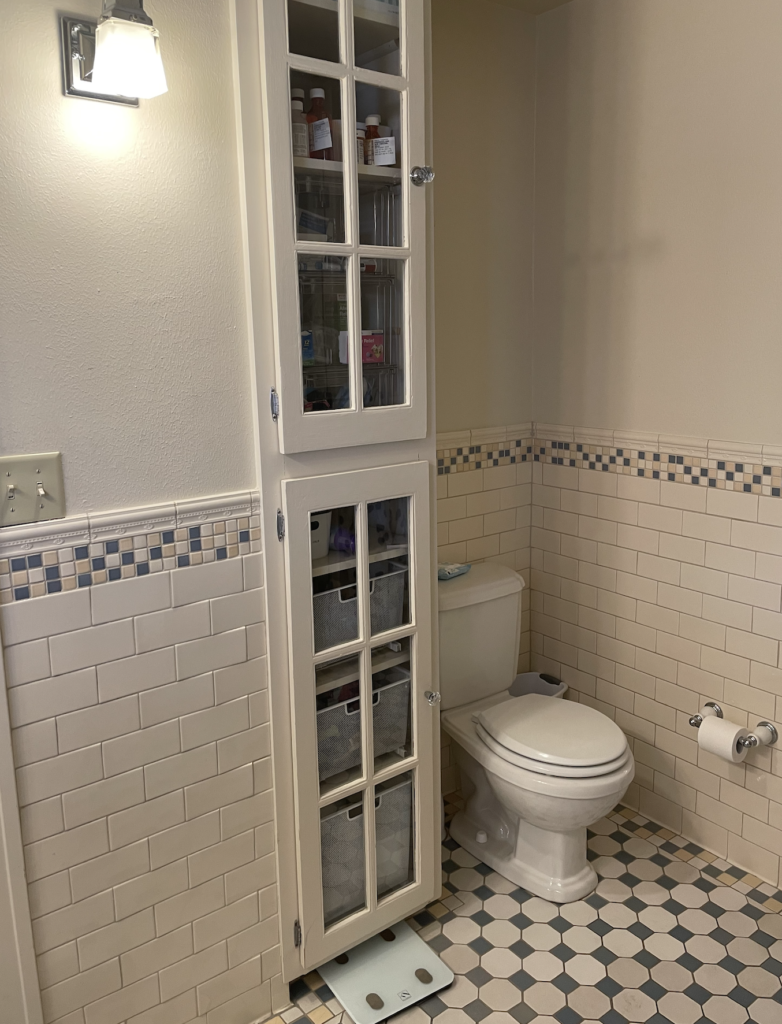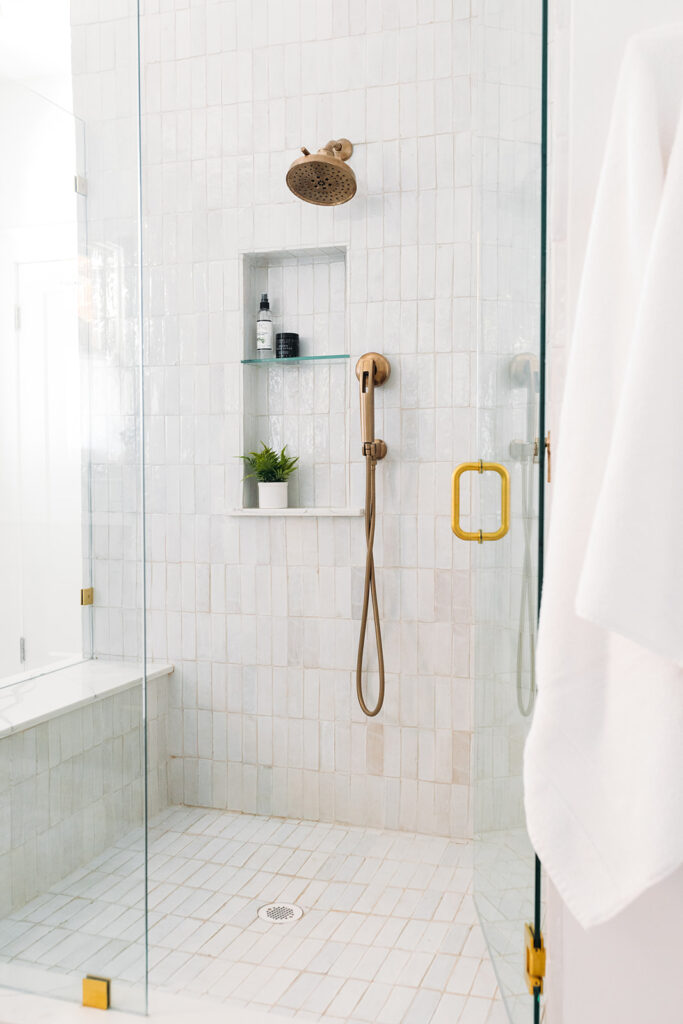 XO, Aubrey