Our Outdoor Patio Refresh
I realize we basically just thawed out from the most major winter storm Texas has ever experienced, but let's talk outdoors.
I receive a lot of questions about outdoor spaces and despite the term, 'interior designer', I get hired to design outdoor spaces as well. That's because for a lot of us, the exterior is just an extension of our indoor living spaces. Our family LIVES outside 8 months out of the year. We have invested in that area of our home because it works for us and we really enjoy it. The lifestyle it provides is worth the investment whether we get that money back when we sell or not (and no, no plans to go anywhere anytime soon).
Why the urgency? Well, things sell out FAST and leadtimes have been crazy long since the start of COVID. The earlier you can start putting some thought into these things, the better.
Here's the thing though: our weather is extreme. Even the best, most commercial grade products are going to take a hit with our temperature swings and storm patterns. Commercial grade outdoor furniture is also REALLY EXPENSIVE. Most folks don't want to fork over $2,000 a lounge chair. I get that, and honestly, same. We have slowly invested in outdoor pieces with longevity and I think it's safe to say we've found some middle ground between pricing and quality.
Now, there will be some things that just don't last forever. Like our outdoor rug for instance. Even though it stays fully covered, it's run it's course after three years and we're in the market for a new one. Because it's something that will continue to need to be replaced, it's not something I put a lot of money towards.
You also have to be so intentional with materials here. Teak? Doesn't stand a chance uncovered in the Texas sun. It also requires regular oiling. Metal? Too hot. We also have pretty severe storms – hail, wind, tornadoes. So, I look for things with some weight so it doesn't blow off. I'm also pretty calculated where I put cushioned pieces. We are used to running out and bringing things in before a storm, but if I can keep that to a minimum, even better.
It's also common that when you live in a space for a while, your needs and approach regarding functionality change. That has been the case with us for the past few years. Each year, I've made some tweaks and replaced things that were looking worn. So, it came as no surprise that when I was standing on our snowy patio last week in my robe and boots, I had some clarity with how I wanted to approach a little patio refresh.
First, I thought I'd give you an overview of the whole backyard. The backyard is really separated into two sections – the covered patio with outdoor kitchen and then the pool. There is a built in fence for child safety between the two areas.
The covered area isn't changing much. I am going to re-style and add new pillows though. I'm also thinking rearranging the plants and re-potting a few will help create some continuity.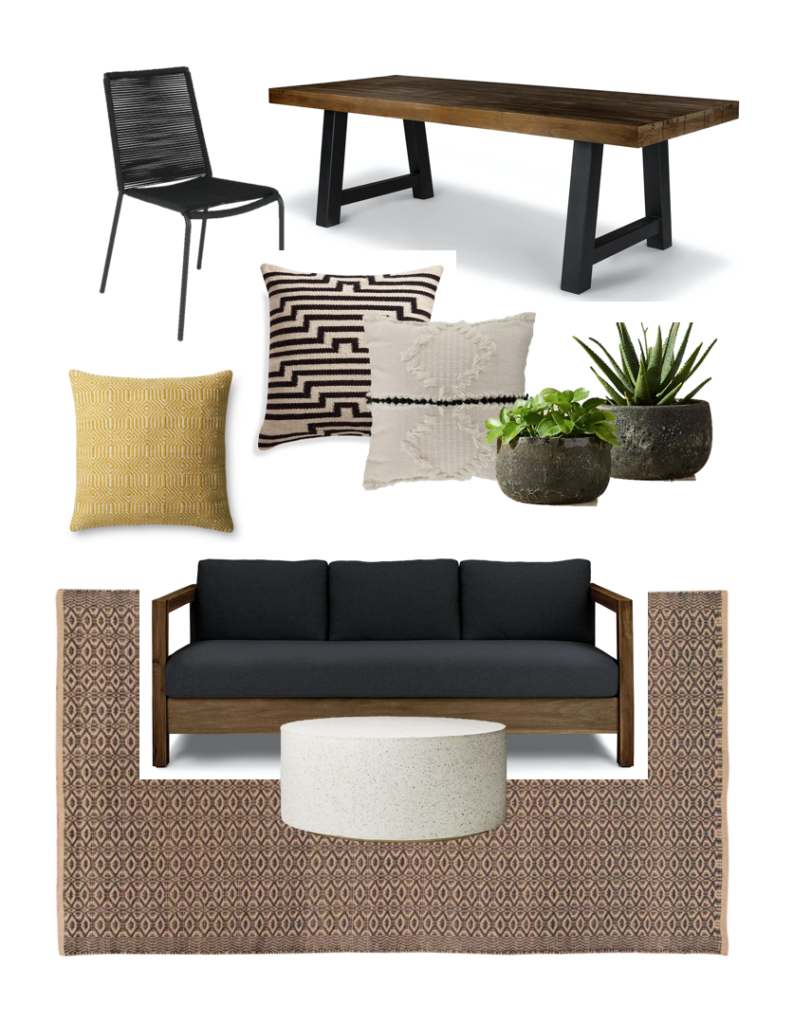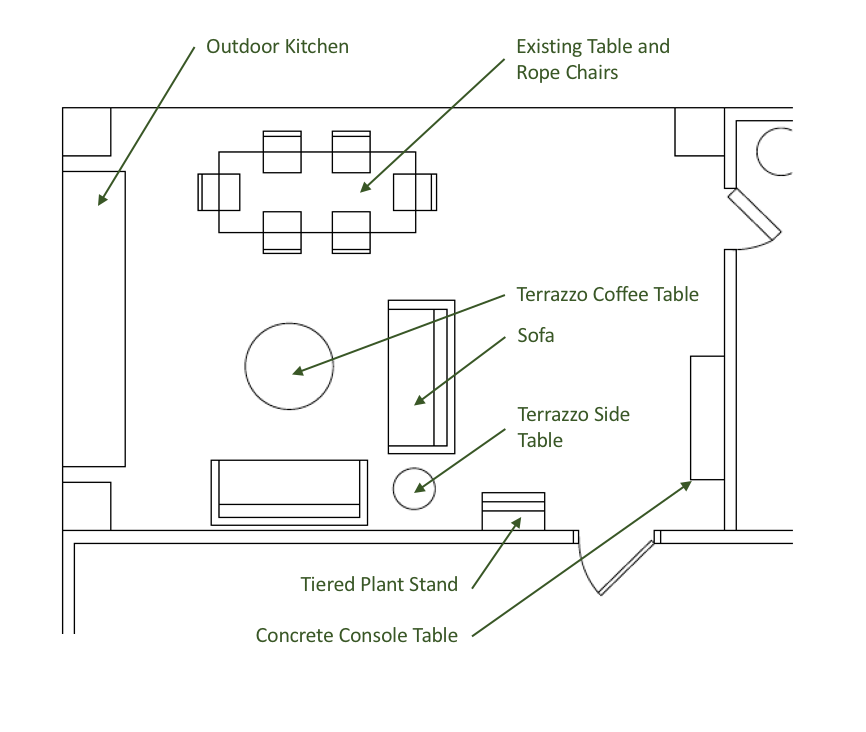 Even outdoor pillows don't seem to last too long and we're in dire need. Ours have been attacked by squirrels and mold (gross, I know). Last year I contemplated bringing in an accent color, but ended up just keeping everything monochromatic. This year, I've decided to bring in some pops of yellow.
Last season, I wasn't entirely satisfied with how our pool area turned out. We did replace our chaise lounges, which I love, so those aren't going anywhere. I had added a round table for some overflow dining and we ended up using it quite a bit. So, we decided to replace it with a larger dining table. I think this will end up filling the space better too.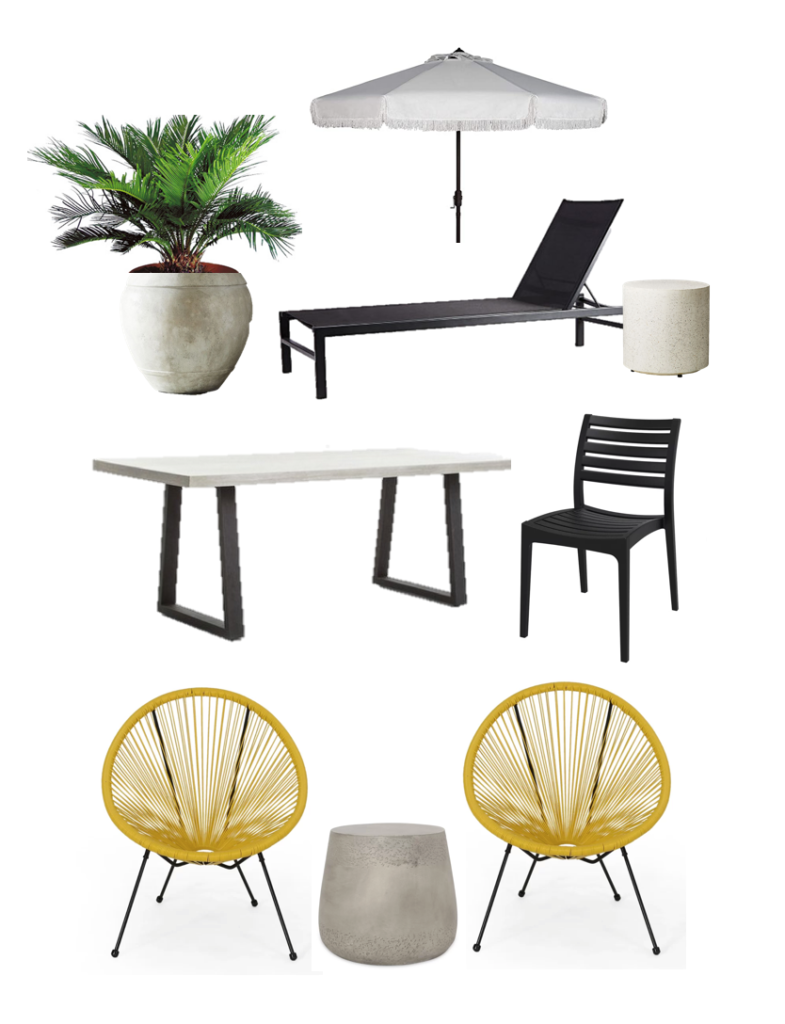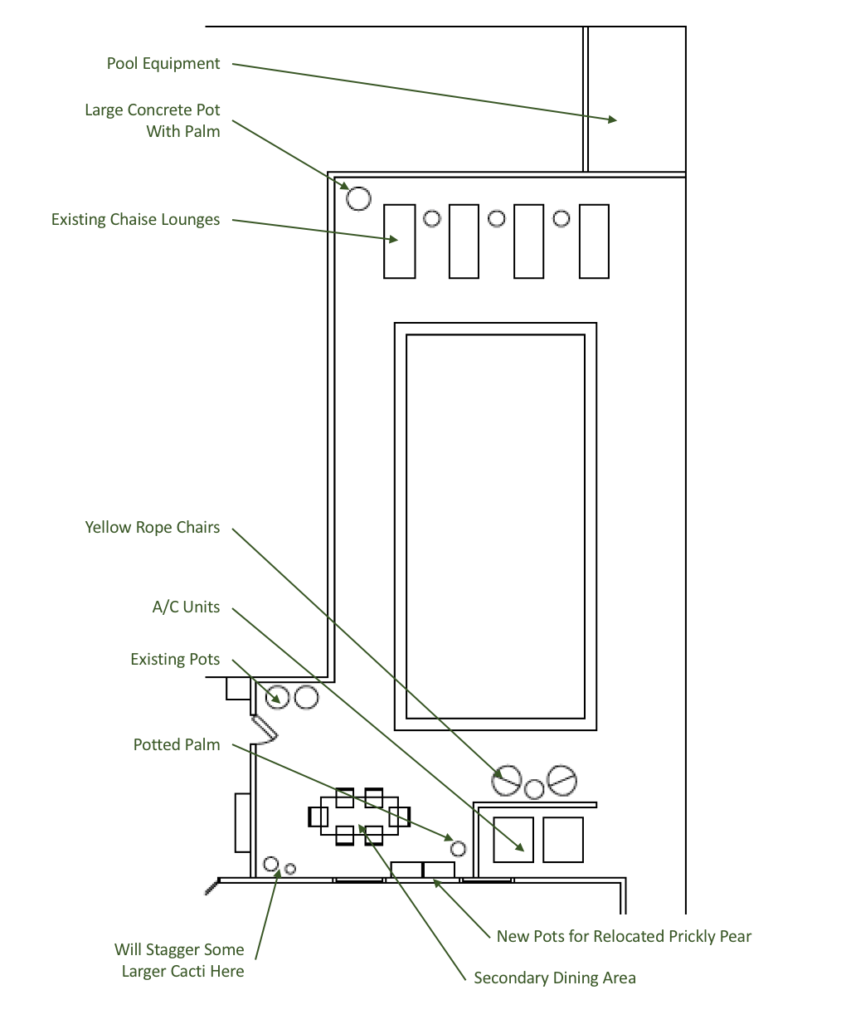 I've been eyeing these woven chairs for a while because they remind me of Mexico. Naturally, I almost went with black, but on a whim decided to bring in color. This was the inspiration for the yellow pillows in the covered patio area. The price point on the chairs is low enough that I can justify replacing these in a few years if they wear on me.
Did you catch those fun umbrellas?! This was another item that desperately needed replacing and I am so pumped for these fringe ones to come in.
Unfortunately I lost my prickly pear cacti in the winter storm. I do have several cuttings though and I am trying to salvage a few more. My plan is to re-pot these in rectangular pots along the house. This is the area that felt like it needed the most addressing. My hope is that the prickly pear get some height and help create some balance between the windows.
I plan on editing some of the existing styling too. I like having a few trays handy and incense holders for citronella. My lanterns I've had for a few years and they've held up really well, despite the occasional wind storm. Normally, my personal projects are not always the priority, but I am relieved to have this out of the way. I hope it provides you some inspiration with your outdoor spaces too!
SHOP THE LOOK
[show_boutique_widget id="1040213″]
XO,
Aubrey