I told my husband after we found out we were expecting that while most girls daydream of what their wedding day will look like, I daydreamed about putting together my future baby's room. He still thinks I am being dramatic. Truth be told though, I literally cannot think of a more fun space to really let loose on. I had a couple of ideas, but ultimately, we had a few goals that we needed to accomplish:
1. I wanted it to be mature enough so that the room could grow with the baby and easily translate to their ever evolving likes/dislikes.
2. Somewhat gender neutral. We adore The Bungalow, but it's not massive. So, we are very cognizant of the usable space and how it can be functional for many years to come. That said, we are tentatively planning on having our kids share a room and there's a 50/50 chance our second will be a boy.  The room sharing obviously couldn't continue for too long, but we're planning for it now so we don't have to spend a bajillion dollars later to re-design the room.
3. The nursery needed to be an extension of the rest of the house – not overly store bought or frilly. I felt like this would feel more original and authentic to us. That said, I didn't look at a lot of nursery inspiration pictures. Don't get me wrong, Pinterest is a great design source for inspiration. Sometimes though, it's nice to decorate without 'rules' or mental roadblocks stifling creativity.
Boy or girl, we wanted the underlying theme of the nursery to be 'Welcome to the World'. Kale and I love to travel and we thought it would be fitting to showcase this in the nursery.
Our instincts were correct when we found out it was a girl! This meant more feminine layers were added (through artwork and accessories) to make it feel appropriate for a baby girl, who we decided to name Nola.
  Jenny Lind Crib, Vintage Rug from Morocco, Elephant Blanket from Madly Wish, Painted Sign from Dallas Flea, Extra Long Drapes from Ikea, Sheets and Crib Skirt from Land of Nod.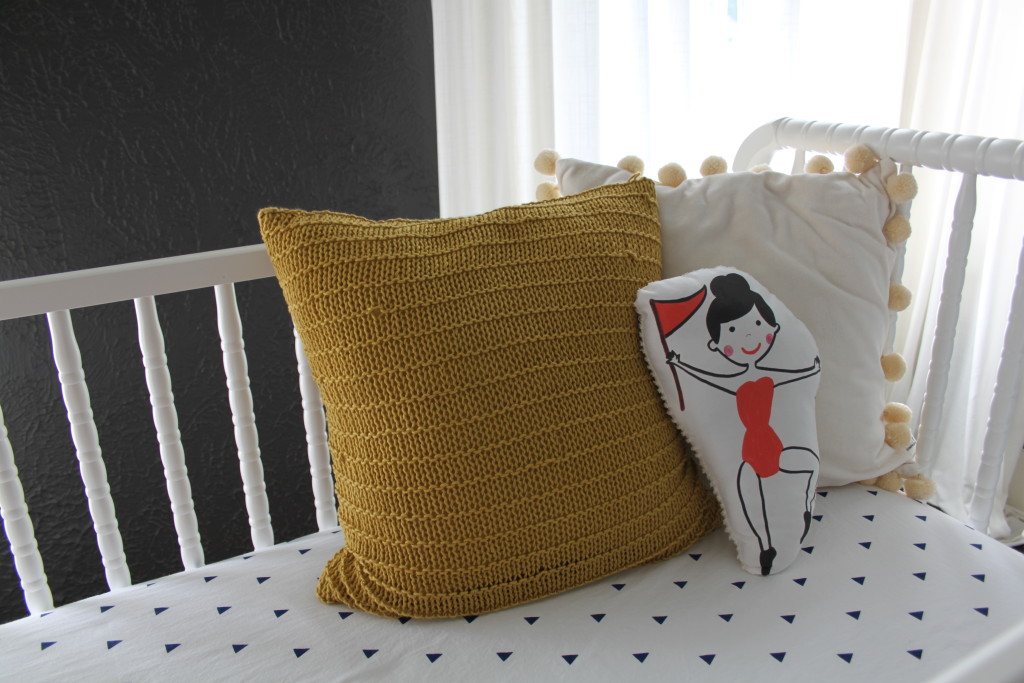 Yellow Crochet Pillow from Crate and Barrel (no longer available), Pom Pom Pillow from West Elm, Carnival Dancer Pillow from Dallas Flea.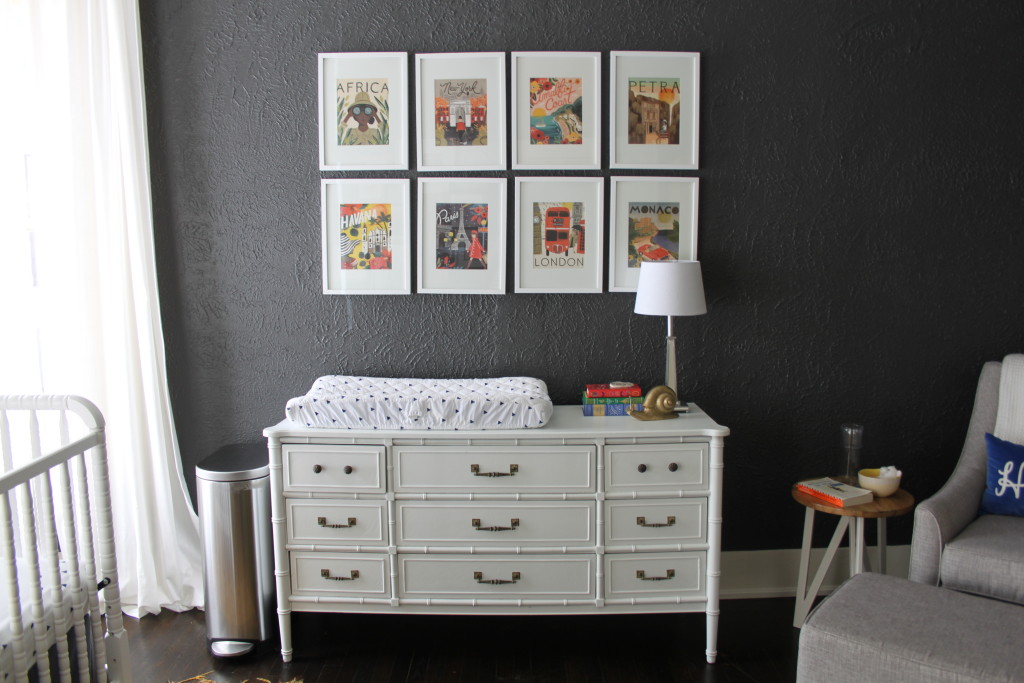 Changing Pad and Cover from Land of Nod, Rifle Paper Company Travel Calendar Artwork, Ikea Ribba Frames, Mirrored Lamp from Target (no longer available), Vintage Dresser from Arcadian Furniture.
Threshold Side Table from Target, 'Hello' Pillow from Land of Nod, Little Castle Glider (this model sold in store only), Lucite Shelving from Land of Nod, Artwork from Animal Print Shop, Light-Up 'N' from Dallas Flea, Stuffed Cacti from Dallas Flea, Ceramic Blue and White Hand (Home Goods Finds).
Stuffed Cacti from Iza Pearl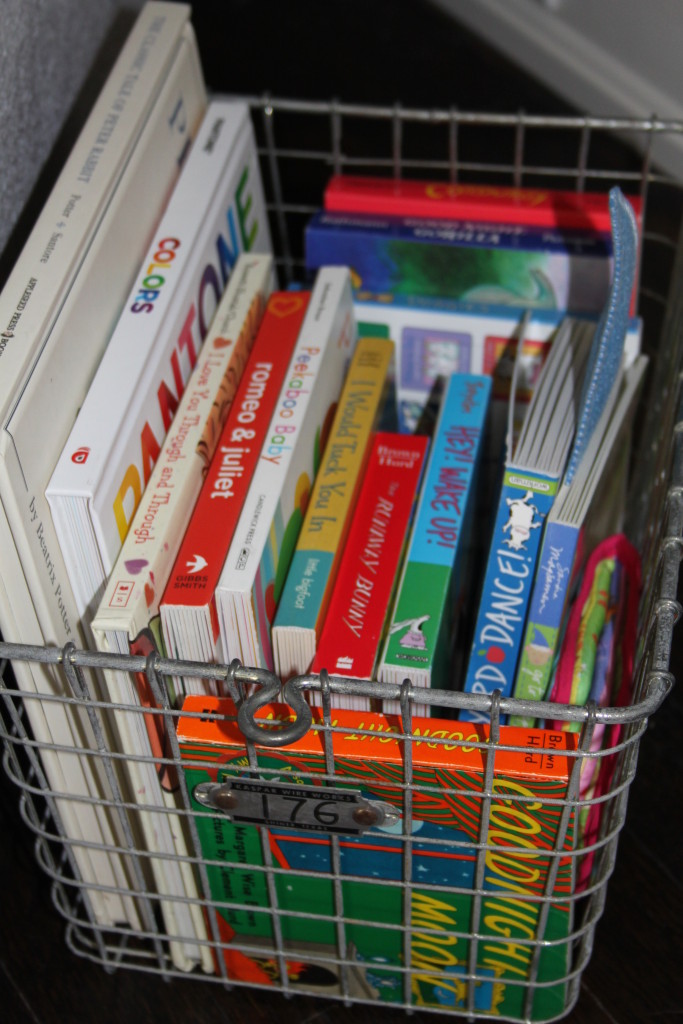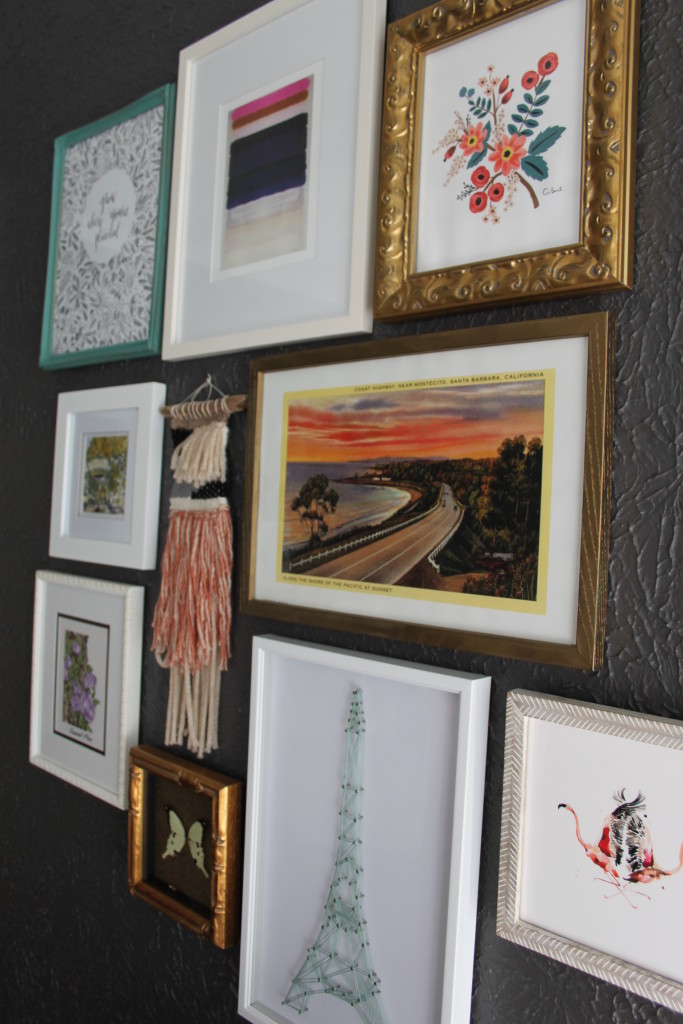 Flamingo Crest Art and Abstract Indigo and Pink from Minted, Wool Art Wall Hanging from Wool and Weave, Floral Print from Rifle Paper Company, Famed Embroidery Piece an original from my Grannie, All other pieces were thrifted.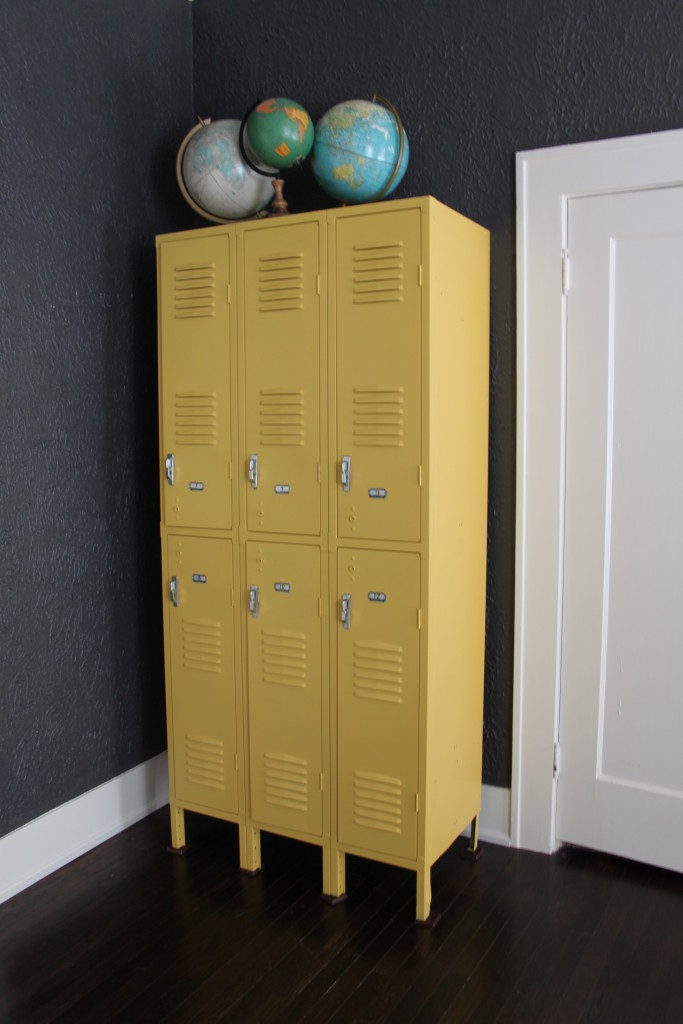 Vintage Lockers found on Facebook's Lakewood Garage Sale Site (a must join for locals!) then painted by my friends at Arcadian Furniture (Sherwin Williams Bee), Vintage Globes were thrifted.
Paint color for room is Glidden's Obsidian Glass which we had Sherwin Williams match. Fun fact: most paint supply stores can match paint from any paint source. In fact, Sherwin Williams keeps the color codes from Glidden and Benjamin Moore.
With the nursery complete, the countdown is on. Less than 3 weeks before we get to meet our Nola! Gilded Heights will continue to post ideas, round-ups and how to's, so keep checking in!
XO – Aubrey