I get asked all the time how I mix old and new pieces together.
I'm not sure I can give you an exact formula that works 100% of the time, but I can definitely give you some guidance that will work in your own home. First and foremost, there is SO much consideration that goes into mixing styles and pieces. I can't speak for other designers, but I spend a lot of time studying form, scale, color, etc. to successfully create the look I am going for. Yes, it's meant to look effortless, but it is certainly not without intention.
I have said it before, but I thrive off of contrast. The more I think about it, the more I think this is the basis for most of my design decisions. Rigid shapes with something organic, brass objects next to wood tones, black against white. I find it very appealing to the eye. I also think those sorts of contrasting details seem to keep the space interesting.
The other key thing to keep in mind here is that opposites don't always attract. For example, both Mid-Century Modern and Craftsman aesthetics tend to very clean lined. However, both of them don't compliment other styles in the same way. Mixing styles also has the added affect of not dating as quickly. Think about it – a strictly traditionally styled home immediately dates itself. However, if you mix your style periods up, it adds to the longevity of your space's 'look' tremendously.
Let's break some things down, mkay?
The French buffet mixed with a very traditional, tufted arm chair might have been too much combined with an equally traditional reading light. I always find myself drawn to modern lighting, so I was excited about the modern swing arm sconce here. The juxtaposition of the two adds a certain cool factor. Typically, I like to use Mid-Century modern pieces as palette cleansers as they work effortlessly with other styles. A tall, skinny floor lamp would have been nice here too.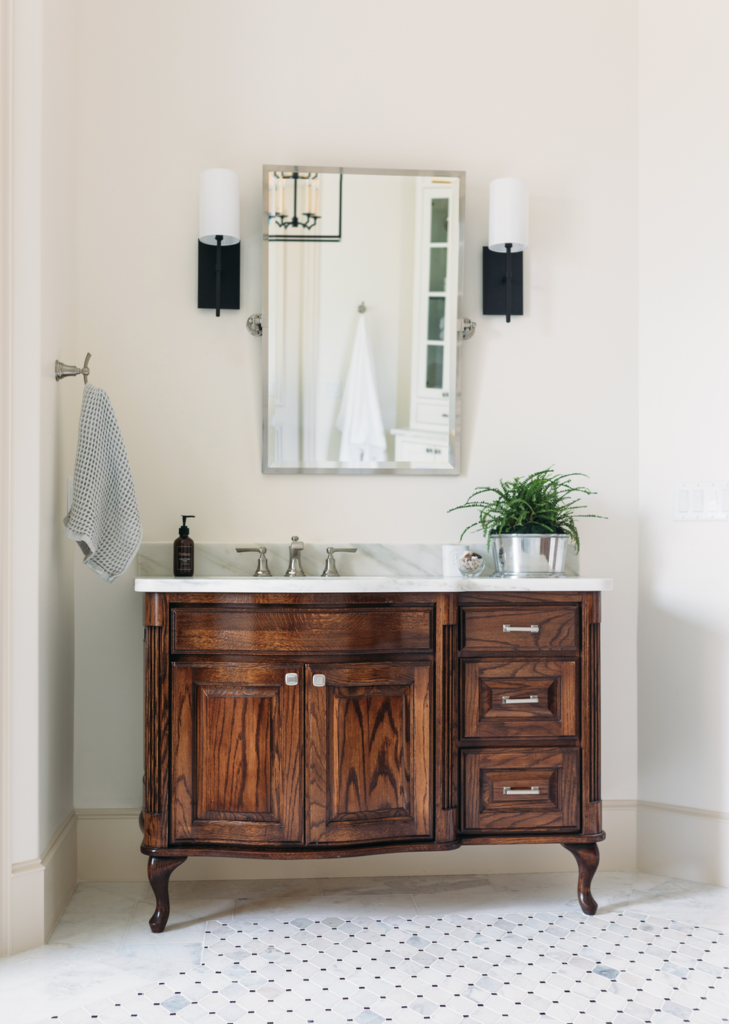 This project was the perfect example of mixing old and new. The client really wanted to try and keep their existing vanities as the rest of their house was more on the traditional side. So, in an effort to make the existing vanities look intentional, I really pushed to make sure the finishes and fixtures we chose were classic. A timeless, black and white marble mosaic floor never goes out of style and works with everything. Brizo faucets were selected because of their handsome appeal. The creamy trim against white walls also emphasizes a traditional appeal. I was very thoughtful about the details because I wanted it to feel updated, without being a complete departure from the rest of the home's architecture. So yes, you can absolutely take the same approach mixing old and new with your finishes too.
Our house is decidedly more modern than our last home. It makes for a pretty clean backdrop for art and furniture which is cool, but it's definitely more challenging to style warmth into a bathroom. While the rusted old cabinet is certainly a contradiction to a cantilevered modern vanity, opposites seem to attract here. The rust color ties in with the wood tone and the aluminum handles tie back to the accordion makeup mirror. The glass sides also keep things light and airy. I also chose to keep the styling of the cabinet on the cleaner side. First, because it's a bathroom and I didn't want it to feel cluttered. And secondly, because the architecture is so modern. In this case, a little bit of styling goes a very long way.
While I cannot take credit for the light fixture choices here, I can say that I was thrilled that I actually liked the existing fixtures in this home (can't go wrong with modern lighting I tell ya). Had this been a more transitional fixture, I think the table choice would have fallen flat. And a more traditional fixture mixed with the hutch would just make everything look terribly dated. This is a good example of how mixing styles can immediately create a more exciting space, even without the help of color.
Don't be afraid to mix and match, playing with styles is fun but takes trial and error! Luckily I do most of my experimenting at home so when I approach a client's project, I have a very keen eye. I hope you've found this inspiring, and if you are curious about working together, don't hesitate to reach out!
hello@gildedheights.wordifysites.com
XO,
Aubrey