I think one of the biggest misconceptions about interior style is that all of your accented metallics should be consistent with one another. In fact, I think doing so will make a space feel more 'forced'.
That said, mixing metals should be done thoughtfully. Here are a few tips that might help you in your styling journey:
(Photo via Lonny)
Stay in the same finish families. Antique gold is the big winner here and notice that the same tones of gold were used multiple times. However, the polished stainless steel is introduced and repeated twice. This consistency makes it look purposeful and really rounds out the space.
(Photo via MyDomaine)
Want to introduce gold accents in your bathroom, but afraid to switch out your plumbing hardware? That's ok too! The key here (again) is consistency. If you're hesitant about gold fixtures, don't let that hold you back from making some less expensive changes elsewhere. Cabinet hardware is definitely more budget-friendly than plumbing fixtures, so it's easy to start there. So is artwork! Even if the decorative lighting in this image would have been polished nickel to match the plumbing fixtures, I still think this bathroom would look fab.
(Photo via House Beautiful)
Balance helps! All of the accessories used on this credenza are metallic. It works nicely because the lamps really balance out the composition of the entire vignette.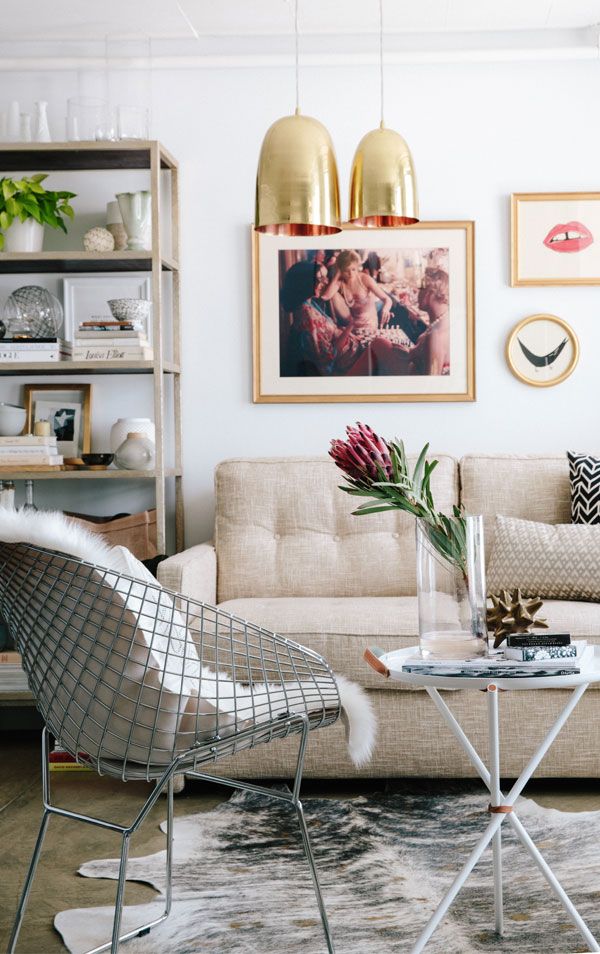 (Photo via Apartment34)
(Photo via Escapade)
Mix in other shiny objects. These last two images are great because they're a good example of utilizing other shiny objects to neutralize the mix of metallics. Shiny white ceramics in the first image and glossy black in the second. Introducing other consistent finishes will ground the space and keep your mixing easy on the eyes.
XO – Aubrey