Baby Butcher #2 has a name – Knox! It wasn't that long ago that we were posting Nola's nursery. If you can remember, we had every intention of our kids sharing their rooms. Oh how naive we were! When they're older, yes – I would totally love to have them share a space. However, after getting the news that Knox was a boy and the not-so-distant memory of sleep training Nola – we decided separate nurseries was best for our family.
I knew I didn't want Knox's room to be too 'theme-y'. Similarly to Nola's room, I did want more of a mature nursery that he could grow into.
I immediately thought of a black and white scheme. We played around with this idea for Nola's nursery initially too.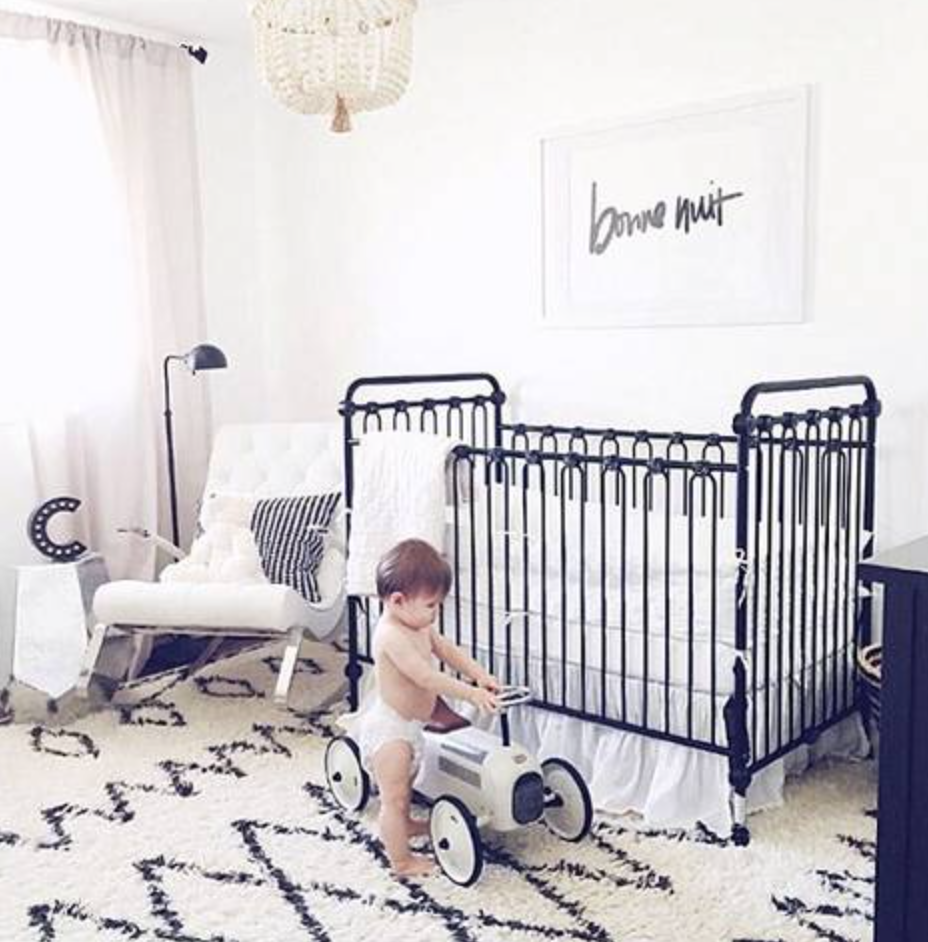 (photography by @quentinandco, posted on Domino)
Two problems with this though. First, as much as I love a good black and white pattern, I also really love color too. I didn't want to be restricted on introducing color if I found a piece or two that were really great. Second, because Knox's room was previously our guest room, we had a handful of items that we wanted to incorporate into his nursery that we just couldn't part with yet. And unfortunately, they didn't quite work with the black and white scheme.
One of those items is a reclaimed wood dresser with a vintage marble top that was intended to be a vanity. We just haven't gotten around to renovating the guest bath. This was for sure staying and could easily be Knox's changing table and dresser. The marble top has some really interesting indigo veining, so indigo was definitely going to be incorporated into the color scheme.
I came across this image and it immediately felt like the right direction:
(via Remodelista)
Vintage, black and navy combo, gallery wall. Yes, yes and yes. But, true to form, I went rogue. Sometimes that is what happens when you stumble upon amazing vintage rugs – it's worth it to redirect the ship.
One late Friday night, I came across a Turkish, oushak gem on Etsy and it was love at first sight.
(purchased from EclecticRug on Etsy)
You bet I purchased that in all it's watery-blue glory.
Once the rug came in, the rest has (mostly) fallen into place. I stuck with the large format gallery wall concept, painted the walls something soft and muted (our walls needed repainting BAD) and incorporated touches of black to sort of ground the whole thing. My husband had one request – a longhorn skull. Challenge accepted.
 01 – Rifle Paper Co. 
02 – Vintage print on wood that I picked up locally at Consignment Heaven.
03 – Minted.com, a terrific source for art.
04 – Our vanity, turned dresser with gold, Anthropologie knobs.
05 – Black industrial lamp from West Elm that I snagged on sale (not listed online), so this is a similar look.
06 – West Elm Paidge Sleeper Sofa. We still have to accommodate visiting family and friends, so we sacrificed getting another glider for a small sleeper sofa.
07 – Land of Nod Pouf. Yeah, I know, it's not authentic. But this one was on sale and I wanted a crisp white.
08 – Sherwin Williams Magnetic Grey for the walls.
09 – Lornhorn skull find from a trip to Canton!
10 – babyletto Hudson 3-1 Crib via Wayfair. Something simple with subtle mid-century lines.
11 – Etsy Rug Find!
12 – My great-grandmother's antique steamer trunk. Another piece that wasn't going anywhere. She had this at the foot of her bed for as long as I could remember, so I find it kind of sweet that Knox will have it in his room.
We're in the home stretch with just a few items to finish up and then we're officially ready for baby. This has truly been the year of nurseries and I can't say I'm disappointed about it.
Oh, and yes – the longhorn is extremely secure to the wall. Designers may have the unwarranted stereotype of beauty over function, but rest assured, baby's safety was priority. Also, in reality, the crib will be slightly pulled away from the wall to keep baby hands from tugging on drapes.