Your entryway is the first impression guests receive of your home. What does it say about you and your style? In my opinion, it's a breath of fresh air before transitioning into the rest of the house. Our last home was a smaller, bungalow style house. Basically the front door opened directly onto the Living Room, which worked out fine – but a formal entry was just one of those things that was on my wish list for a future home.
For the first two years in our current home, I had a few leftover pieces styled in there while I thought about how I wanted our entryway to develop. When I think back to spaces that have really left an impression on me, they all have a few things in common. They are personal, carefully curated, and don't waste too much time on trends.
Generally speaking, I do try to only bring things in our house that I love. I'm just a firm believer in thinking that if I love something, it won't ever go out of style.
I knew the steamer trunk would be used somehow. It was my great-grandmother's and sat at the end of her bed for as long as I can remember. It's a piece I don't think I'll ever part with. The runner was also going to stay. Oddly enough, we don't have much 'hallway' in this house so that's really the only place for it. My husband and I brought it home from our trip to Morocco.
One Saturday in early Spring, I was doing a deep dive on Etsy and found this inlay waterfall console table. I had gone back and forth between wanting something quiet in the entry and wondering if something impactful was a better choice. Ultimately, finding the table sealed the deal. I've always gravitated towards contrast and stripes and have joked that my favorite colors are black, white and brass. It's actually a similar table to what Anthropologie has, but I asked the shop if they would do a custom size and they did! I hit 'purchase now' and never looked back. It arrived from Udaipur three months later.
The hand chair was a long time coming. I actually spotted it at a shop in Carmel, CA, ten years ago and wished that I would have bought it then. Instead, when we found ourselves in Carmel again back in 2019, I thought I'd see if the shop still existed. IT DID! And they had the hand chairs. I snagged one and then proceeded to wait 6 more months until it could be delivered. What's 6 extra months when you waited 10 years?!
Once those two things were paired with the rug and steamer trunk, the rest really fell into place. They were items I spotted in my thrifting adventures or while traveling. I also styled with some favorite family photos. I know some designers don't use family photos, but I think it's important to. Your home should tell the story of your family, so showcase them too! Now, notice there aren't picture frames that say 'my family' or my favorite, 'live, laugh, love'. Simple, sophisticated frames are the way to go.
Scent is another way to make an impression. I keep my incense burner from India on the console. A favorite candle is also a good choice for an entry table.
Normally, I'd for sure have a plant here. But, I think the floral art piece adds a natural element. In most cases though, I'd say a plant is a no brainer!
So, to keep this entry styling equation simple: artwork / mirror (for a clean look), sufficient lighting, a beautiful scent, a few favorite things, memories and something to contain the landing spot 'clutter'. In our case, I use boxes and the wall mounted bowl for keys, stamps, letters, etc.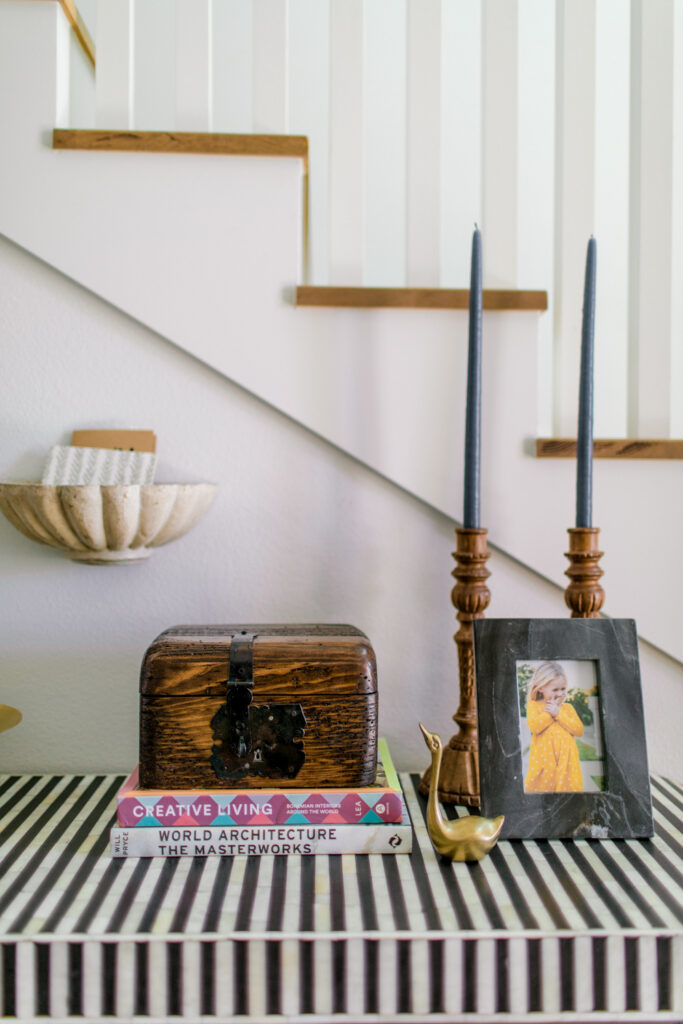 You probably already have these elements around your home already! But in case you don't you can shop the look below. Even though most of these items were 'found' items, I took some time to find the next best things..
[show_boutique_widget id="996560″]
XO,
Aubrey