I often joked last year that while everyone was quarantined baking bread, I was propagating plants. Home has always been my sanctuary, but in 2020, I really took it up a notch. A huge part of creating a sense of home for me is by bringing in plants. I love the layer of life it adds to a space and caring for them really seemed to center me.
Oddly enough, planting and propagating isn't really something I've always enjoyed the way I do now. I grew up in Washington state and I recall planting and gardening with my parents. For several seasons, I even developed a talent for making hanging baskets. Gardening in Washington state is like taking candy from a baby. Everything seems to thrive there – magnolia trees, peonies, rhododendrons.
Needless to say, that is not the case in Texas. I really struggled to find things that looked good outdoors that I could also keep alive. One can only take so much boxwood, ya know?
I am by no means an expert, but I have quite a bit of trial and error under my belt. I've also worked with some professional landscape architects who have taught me a bunch about layering plants and adding texture with greenery. To continue the outdoor theme, I wanted to speak to some of the changes I am making this year with our landscaping.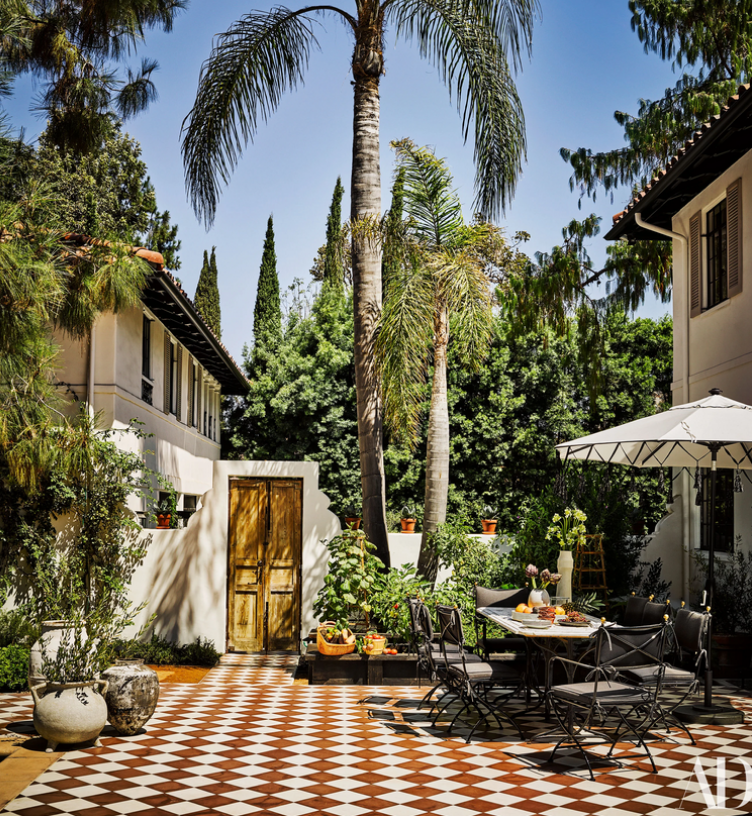 Nate Berkus as Featured in Architctural Digest
Who wouldn't want to sip a margarita on this epic patio? It's stunning. The same rules apply with exterior inspiration photos as they do with interiors though. Fundamentally, does the context translate to your particular situation? In this case, hard no. Nate's beautiful patio is in California and the weather in LA is quite a bit less intense than in Dallas. Palm trees aren't my vibe and the delicate greenery would be toast in this environment.
However, another place comes to mind when I am trying to tap into that casual, low maintenance garden vibe:
Posada Margherita, Tulum, Mexico
Tulum is a place we visit pretty frequently and I love the atmosphere that Posada Margherita has. The eclectic collection of pots with cacti and agave which are more appropriate for our climate. Vignettes are made by creating smaller spaces with potted plants, which was a look I couldn't quite seem to emulate. Once I realized that was the missing piece, it all became really clear to me.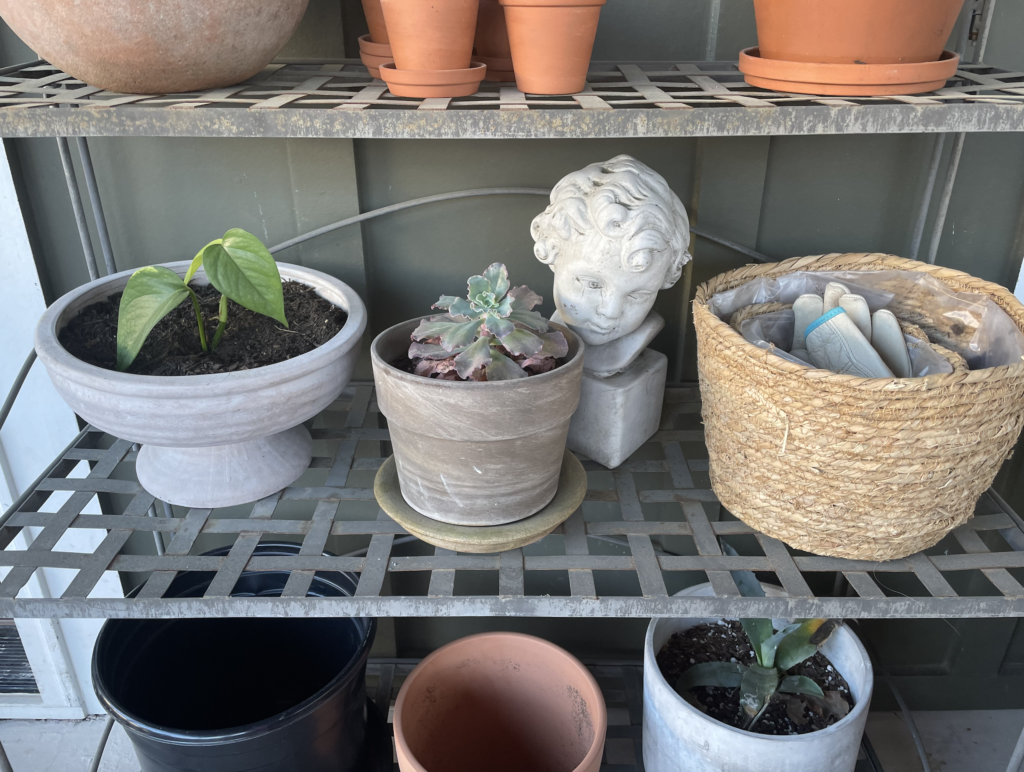 Typically, we'd take a big family trip to a local nursery and pick out a bunch of things we liked and stick them in pots. I've struggled with this approach a bit and I couldn't quite put a finger on it. Then I realized that I should probably be using the same thought process that I do for interiors – it needed cohesion. Eclectic style can sometimes look random, but there's always intention involved. So if my pots are a random assortment, I wanted to try and create some cohesion with the plants being used.
So, I worked with our landscaper to talk through some options and make sure that the ideas that I had would be appropriate for our sun levels. Which in our backyard, is high. I am drawn to grasses, so we placed a few of those throughout the backyard to add texture and softness. Hibiscus does really well and introduces a ton of color. Typically we group them in pots by the pool fence, but this year I am breaking them up to create some connectivity between the pool area and the covered patio.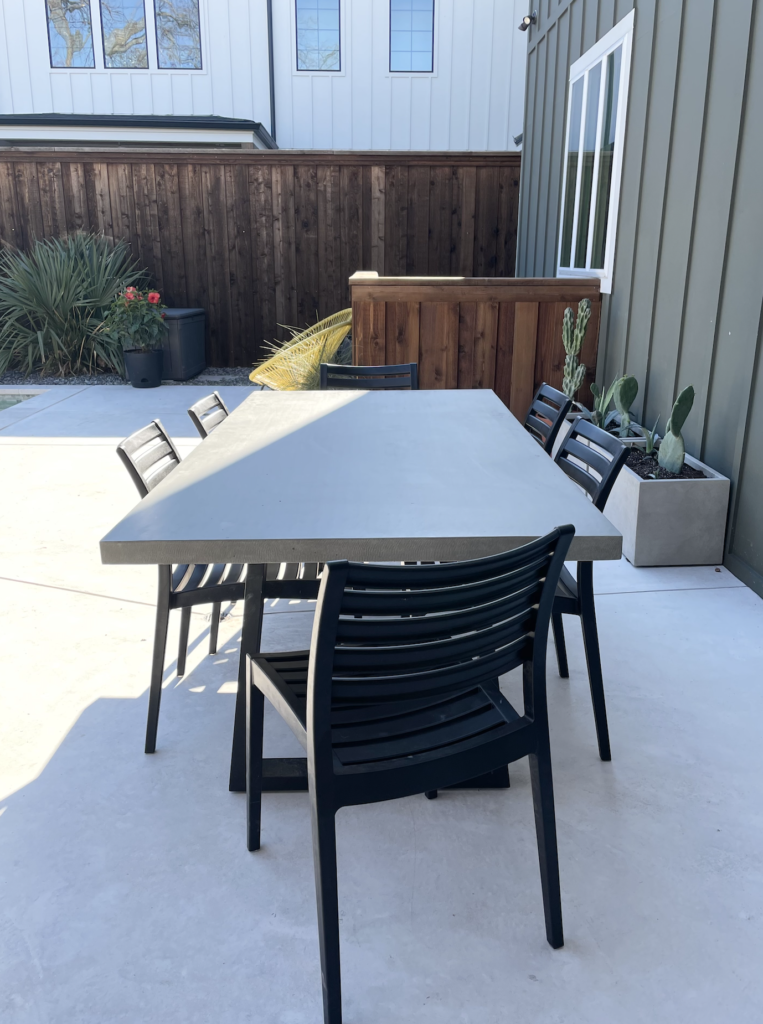 My cacti have been potted together the pool area. The pieces I propagated and brought in for winter are ready to thrive there! Hopefully they add some height between the windows.
Locally, I prefer Walton's for my plant needs. They always have a good selection and their employees are super knowledgeable. My advice is to place your pots first and then make a list of what you need to fill each one. This helped me with space planning and also kept me from over buying at the nursery (which is easy to do!). Our backyard is our sanctuary and we were so pumped to get it looking fresh and ready for summer this weekend.
For my favorite go-to tools for successful planting prep, SHOP THE LOOK below:
[show_boutique_widget id="1050456″]
XO,
Aubrey