This room used to be the most embarrassing room in our house. Plain walls, beat up cribs, a too-small changing table. We moved into our current house with two young children and a third on the way. We spent the following year to eighteen months playing musical rooms while we navigated sleep training, but knew ultimately, our boys would end up sharing the middle bedroom.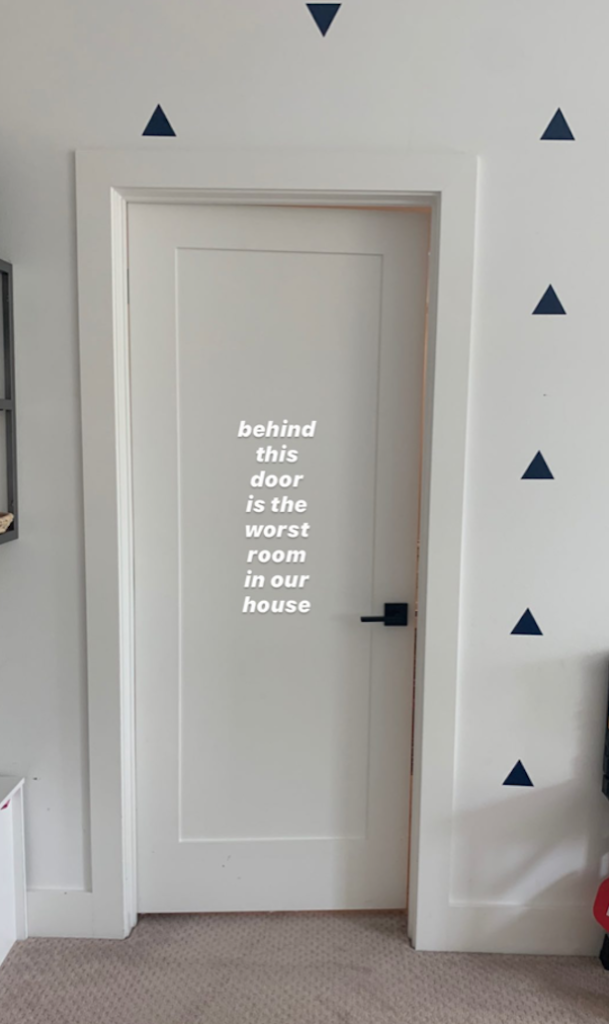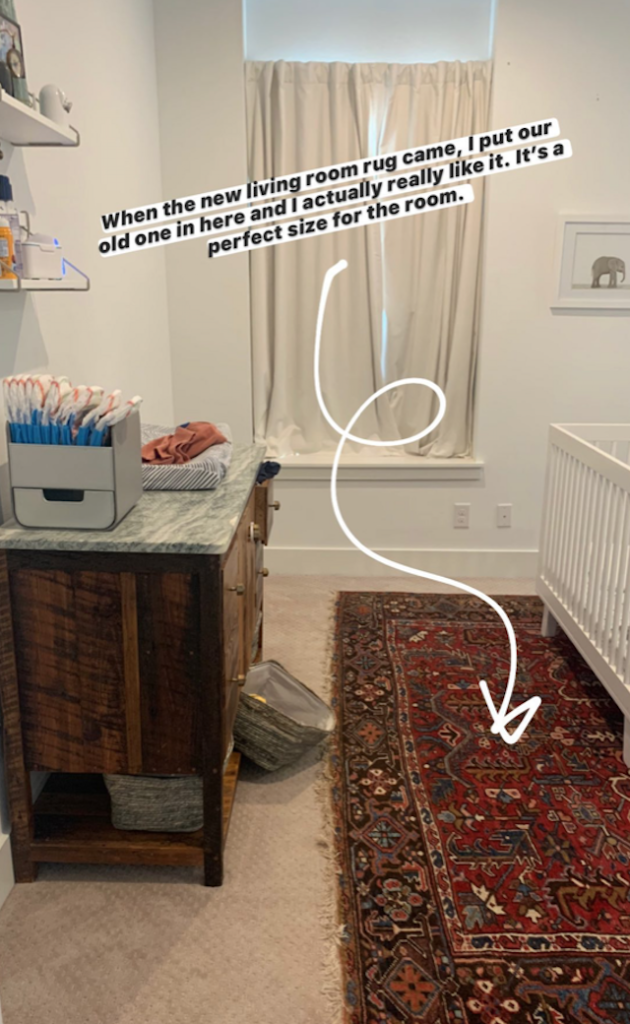 I normally advise clients not to rush to furnish their homes, but that is always easier said than done. Especially when you are your own client. I knew bunk beds would save a ton of space but worried that we'd have a lot of hardcore parkour happening in there. No one wants night time ER visits! Pre-COVID, we had stayed at a few vacation rentals with bunk beds and the boys did great. So by the time July rolled around, I felt comfortable with the idea of bunk beds.
Initially I thought a 'scheme-less' room was the way to go so they could grow with it. As I started collecting things, a follower on Instagram pointed out some of the art gave her strong 'Wild West' vibes. What she didn't know is that I had already purchased a fringe ottoman, which pretty much sealed the deal on a Wild West themed room. I couldn't un-see it at that point, but loved it – so naturally, I leaned in.
It's amazing how nicely a space can pull together once you stick to a direction! The other element that I took a leap of faith with was the wall color. I had this lovely Jade colored Brentano fabric sample I adored. I envisioned it as roman shades and painting the wall to match. I was drawn to the idea of not breaking up with room with drapes and also, keeping the floor clear for activities. The rug is pretty red, and I had already purchased the red bunk beds, so I crossed my fingers it wouldn't give off Holiday vibes.
Injecting the shades of navy helps a ton – but overall, the wall color just makes for such a rich backdrop. Sherwin Williams matched the fabric exactly.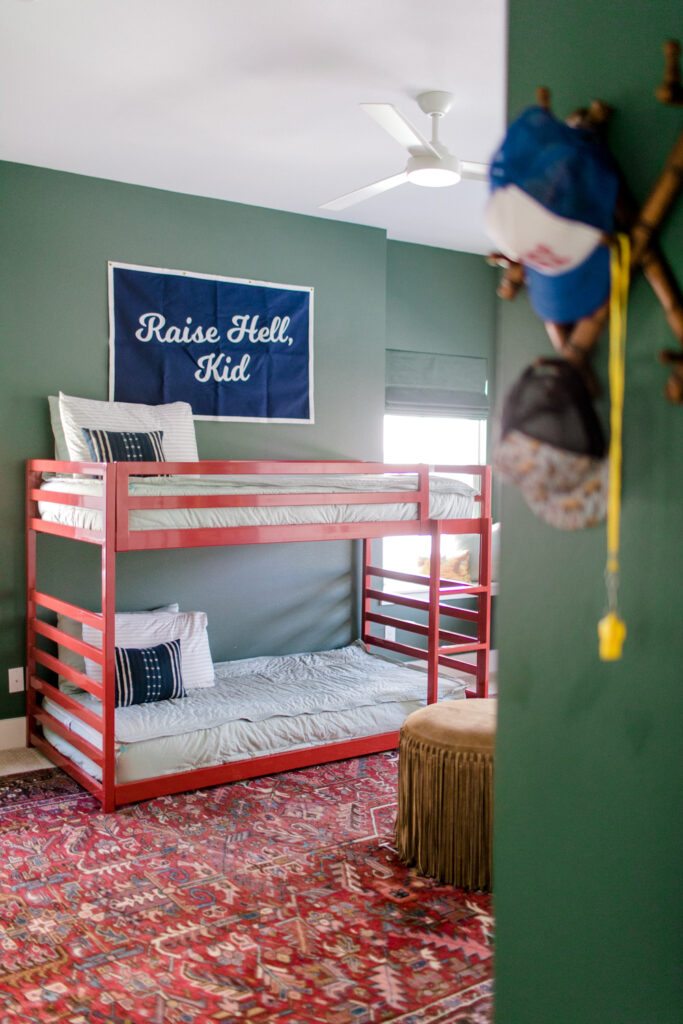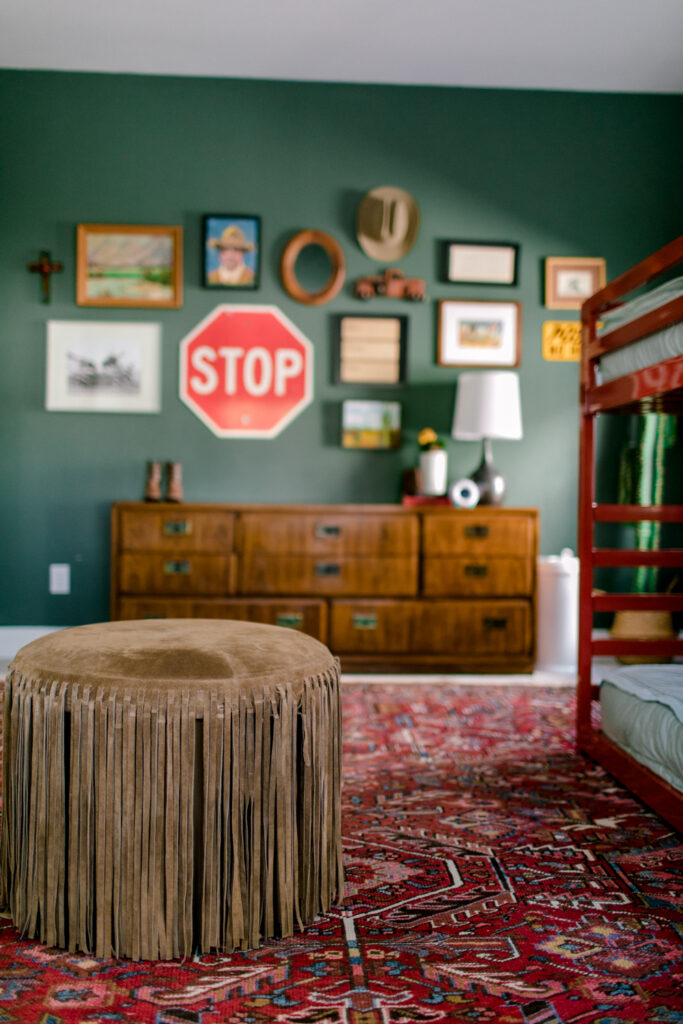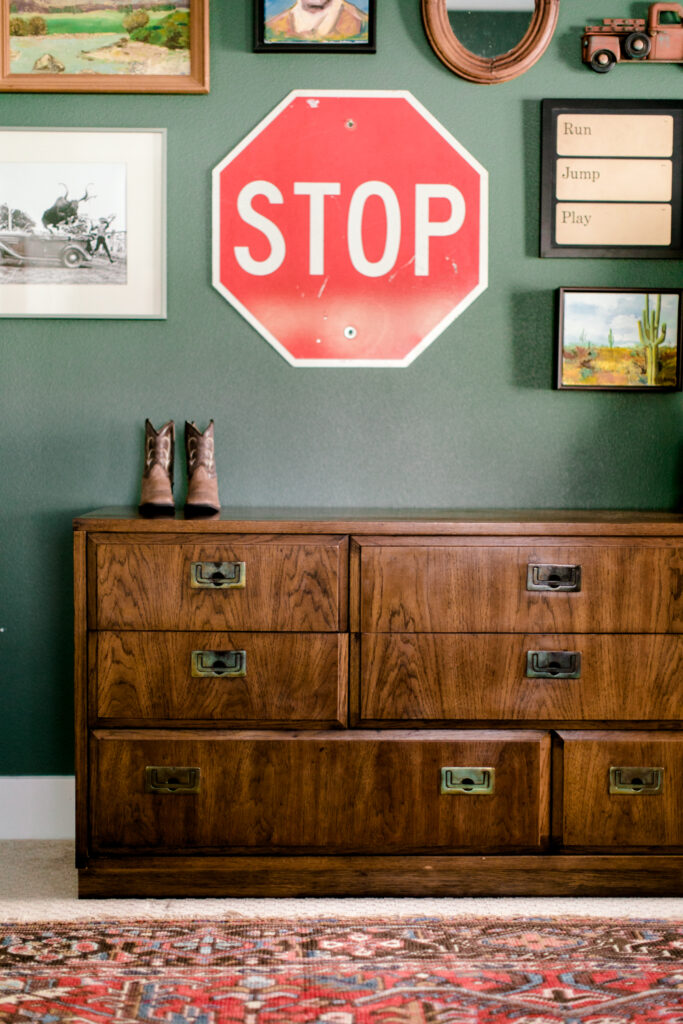 Most of the art and accessories in this room are thrifted! Which takes some time, but was so much fun. The credenza is a vintage dresser from ContextVintage. You can find her shop on Instagram. Its a beautiful piece and the height is perfect for the boys to get to their own clothes. Win for mama!
The bunk beds are from Room & Board, called the Mini Fort Bed, in red. Sort of a risk, but the boys both love the color!
Speaking of bunk beds – one of the biggest warnings I received when considering bunks was actually making the bed. I contemplated on this quite a bit, but eventually invested in Beddy's sets. Honestly, they're so great – I highly recommend Beddy's to anyone considering new bedding for their kiddos (bunk beds or not!).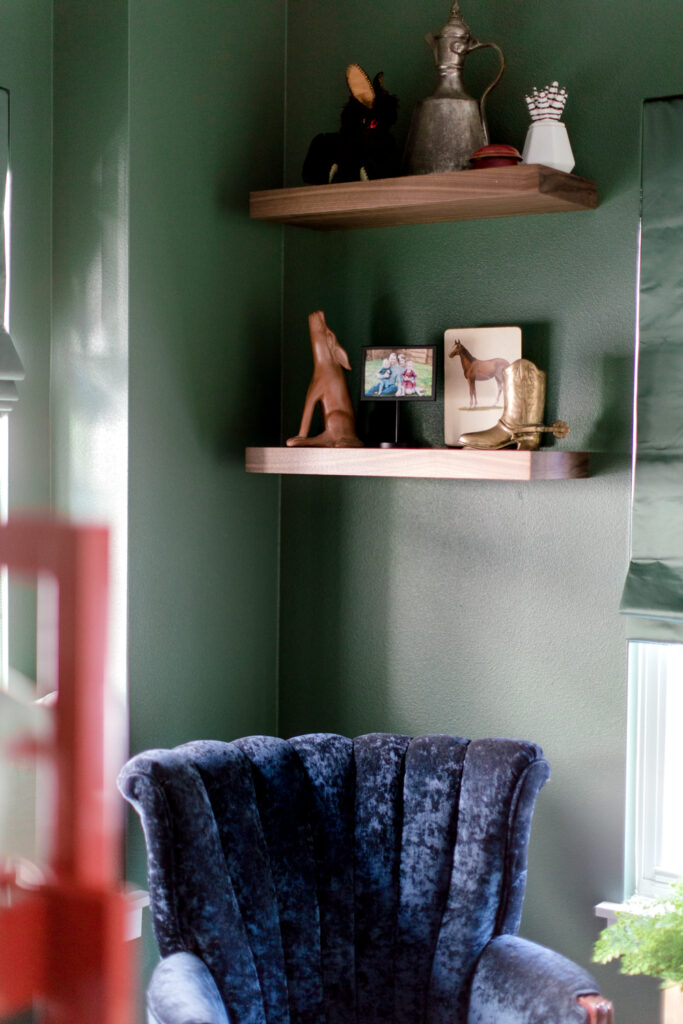 The chair is also vintage and a piece I've had for a while. It's one of those pieces that I manage to work into whatever room it ends up in.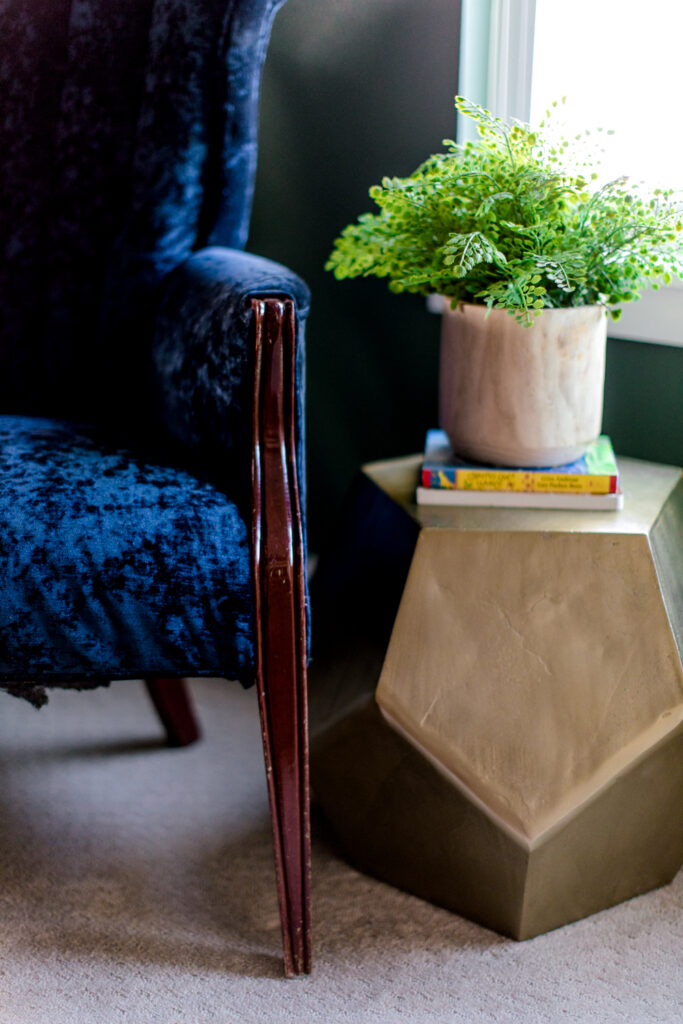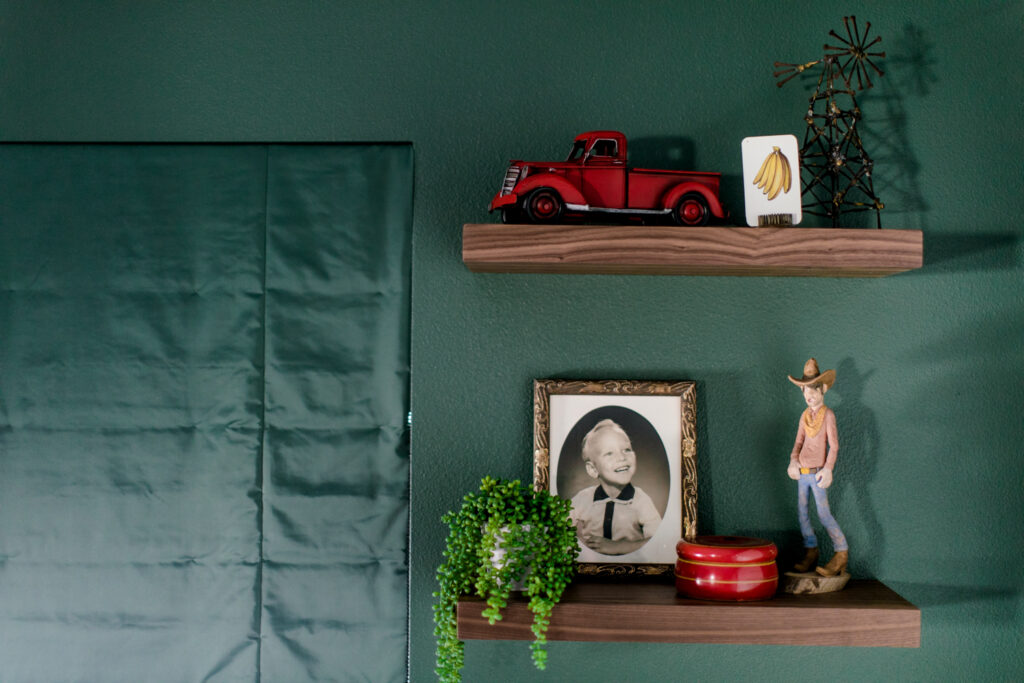 A few sentimental pieces are mixed in. The framed photograph is a picture of my dad as a little boy. Our youngest son definitely favors him with a similar smile and certain twinkle in his eyes. The carved cowboy is something my husband's grandfather carved himself! The little red boxes are things I collected in India. They add a fun punch of color.
Happy it's done and that the boys love their new room. For a similar look, you can shop the links below!
[show_boutique_widget id="996057″]
(All photos by Kristen Dee Photography)
XO,
Aubrey