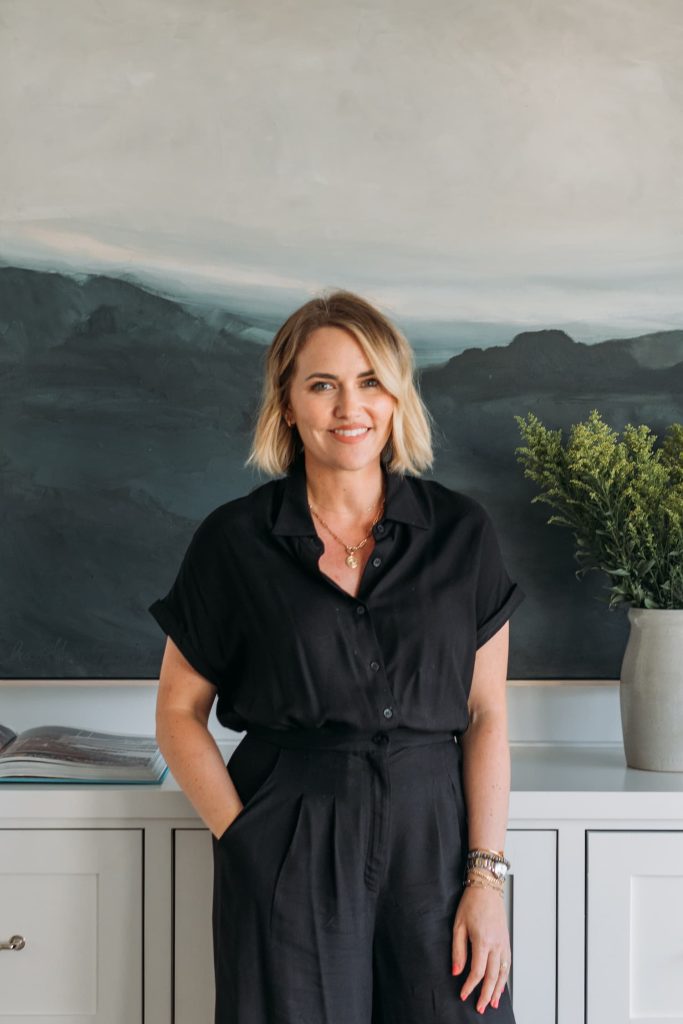 The Story Behind Gilded Heights
Aubrey Butcher's career started in hospitality design, where she worked on lobby spaces, guest rooms, and everything in between. Aubrey and her team would collaborate with brands to develop a hotel's story and its relevance to the city it's in, creating a cohesive experience for guests.
In 2015, Aubrey pivoted to residential design but her approach to the design process hasn't changed. She believes your home should be an extension of you and your family. It should tell your story and provide you a sense of comfort when you're in it. Aubrey created Gilded Heights to help clients tell their stories in a way that is authentic to them.
Aubrey is a mom to three children and lives in Dallas with her husband. Together, they started a tile company called Riad Tile which was inspired by a trip to Marrakech. Over the years, they have expanded their product line to include hand crafted materials from Morocco, Mexico, China, and Vietnam. Traveling continues to be a huge source of inspiration for Aubrey. She enjoys curating a collection of décor from around the world that is often incorporated in clients homes.
Our Unique Approach
Her attention to detail and pursuit of original, yet functional design makes Aubrey unique.
The Gilded Heights look is one that is collected, rather than shopped. Vintage pieces are woven into the design scheme to give every space a timeless feel. Aubrey has a keen eye for styling which creates depth and interests in her clients' homes.
From Conception to Completion
Gilded Heights eliminates the stress of construction coordination by thoughtfully documenting your design intent into a detailed set of interior design drawings for implementation. Aubrey will be your design concierge, working through ideas and details which are then communicated to your contractor. Furnishing packages are handled with the same level of attention. Gilded Heights makes furniture procurement a completely turnkey process, unique to each Client and their specific needs.
Our Process
Start
We'll start with a consultation to get an idea of your scope and needs. Whether it is a new construction project, renovation, or refurnishing package, this is an important step to set goals and design intent for your job. The consultations are usually held on-site (if applicable) so any field measurements or photos can be taken for reference. 
Concepts
In the conceptual phase, Aubrey will send some initial visual direction for your project. Think of this as a general overview for design direction with comments highlighting important elements as necessary.
Design
Upon approval of your conceptual package, Aubrey will expand on those ideas in the design development phase. Specific finishes, lighting, plumbing and/or furniture selections are made. Samples or ordered and key cabinet elevations are beginning to take shape so the client can get a better idea of intent.
Approval
All approved finishes, hardware, lighting, and fixtures are documented in a comprehensive set of interior design documentation for implementation by your contractor. Think of this as a design intent instruction manual for your home. A set is shared with the Client as well as the Contractor. For furniture procurement, it's at this stage that a formal bid is sent out for approval to begin ordering.
Oversight
Aubrey is available throughout the construction process for on-site questions as necessary to ensure a smooth process. She also routinely shops with her clients for materials and fixtures, such as stone slabs and plumbing.
 Install
Install day is the best day! If we're implementing a furniture package, Aubrey is there for delivery, ensuring the experience is as seamless as possible. Most clients prefer to have her style their spaces as well. Aubrey curates books and accessories specific for your job, which is an added level of detail that makes your space personal and unique.