When I started brainstorming our wedding registry back in 2011, I didn't spend too much time thinking about china and flatware. Obviously I knew these were things most brides added to their wedding registries, I just had no idea where to begin. I had never envisioned what sort of style or 'table aesthetic' I wanted.
Truthfully, I also never saw Kale and I as the type of people to have formal china and flatware. So I skipped registering for them altogether and figured I'd take my time in that department. Over the years, I was gifted some fun floral plates and vintage utensils. Then when we moved into our current home and had the space, I felt confident choosing some pieces that could be more for everyday use.
The best part is, these pieces have also proven to be quite versatile. I pull them out regularly when it's just our family dinners and they look equally as great with our holiday spread. Generally speaking, I'd say my Thanksgiving table decor is pretty casual. I like layering in our usual pieces with nice linen table napkins, lit candles and vintage wood bowls to add warmth.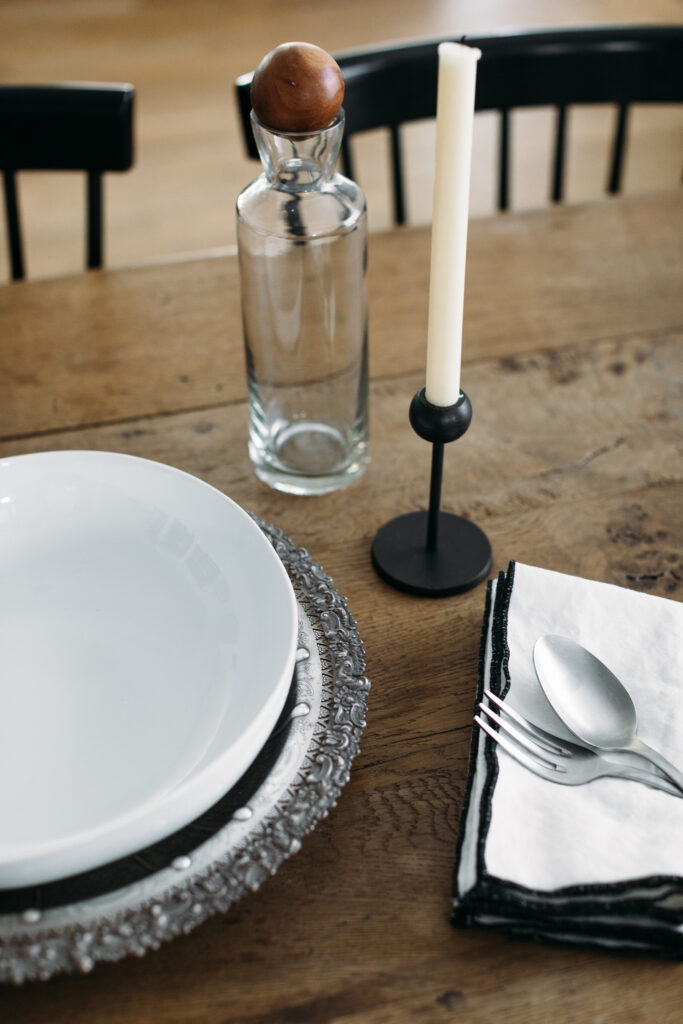 I also pull out some of my vintage pewter pieces to layer underneath serve ware. It instantly elevates things and makes it feel festive without trying too hard. I also really appreciate the connection created between the table and the pewter collection in our hutch. Continuity people!
So while you won't spot decorative turkeys or cornucopias on our table, I do have plans to make a centerpiece with pumpkins and some magnolia leaf branches as well. I love the contrast of the glossy green outer leaves and the rust color on the undersides.
Less theme-y and more classic is my go-to. If I stick to that, it's easy to pull together a cohesive look without a lot of prep or stress. For a round up of favorite everyday-things-that-can-also-be-elevated-for-holiday, see below!
SHOP THE POST
[show_boutique_widget id="1002009″]
XO, Aubrey