Having grown up in Seattle, a little rain doesn't bother me. In fact, I sort of live for a rainy morning with a cup of coffee. This monsoon season we currently find ourselves in though is starting to wear on me. As much as I can't believe I am admitting this, I am desperate to declare it summertime and feel some sunshine on my face.
My fresh flower habit isn't cutting it right now either and I'm fairly certain my cacti are all water logged. Send help.
So in the meantime, I am here scouring the internet for some inspiration. One of my favorite things to select for projects is wall covering and there are so many fun new patterns out there to consider!
Wallpaper used to be more of a permanent decision than it is now. You'd have to spend time and money prepping your walls and then apply that thick coat of glue which will tear up your walls if you change your mind in the future. Not to mention the actual time and material it takes to make it look perfect. So many companies now have peel and stick options that are so much more approachable for the novice installer. This allows renters to jump on the wall covering train too. Once you move out, the wallpaper just peels off without any damage to your walls.
I've always appreciated giving smaller spaces bold character. I think it is the perfect opportunity to make a big statement without a lot of commitment as it's a small space. I also think the rooms you're in the most are the ones that should make you feel the happiest. Especially if your space is lacking a lot of natural light or needs some character.
Yes, you can absolutely make a statement with your paint choice. There's just something about an all-over wall pattern that can really make a space. This was totally the case for Nola's wallpaper. Her tall ceilings were begging for something to ground it a bit and her sweet Serena and Lily elephant wallpaper was a no brainer.
I hope people continue to become less and less intimidated by wallpaper. I think it's a classic and very chic addition to any space.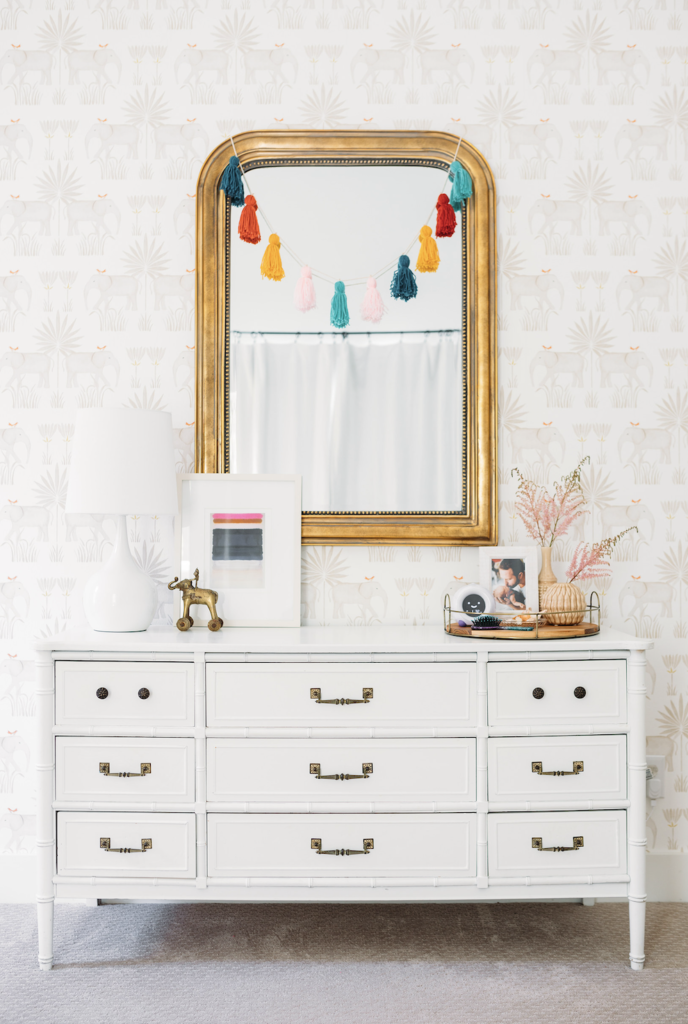 I rounded up my favorite wallpaper options right now and you can click the images below to order yourself a sample. Anything to add some brightness to these rainy days!
SHOP THE LOOK
[show_boutique_widget id="1066927″]
XO,
Aubrey