I decided pretty early on in my pregnancy with Nola that I didn't want a gender typical color palette for her nursery. I opted for almost black walls with white furniture so that art and accessories would look extra vibrant. Her rug was a impulse buy from a riad in Morocco prior to learning we were pregnant. Neither of us knew of a place we could use the rug just yet, we just knew we weren't coming home without it. Nola's nursery quickly took on a 'Welcome to the World' vibe with some collected pieces from travels.
(A very blurry iPhone photo from our rug selection process. Our entry way rug is there too!)
(Had my last pre-baby meal in Deep Ellum and this was painted across the street. We were on our way to the hospital to meet our Nola)
Despite the vibrant color scheme, I felt like the room was still super cozy. Everything came together nicely and it became a favorite place to play, even when her little brother came along.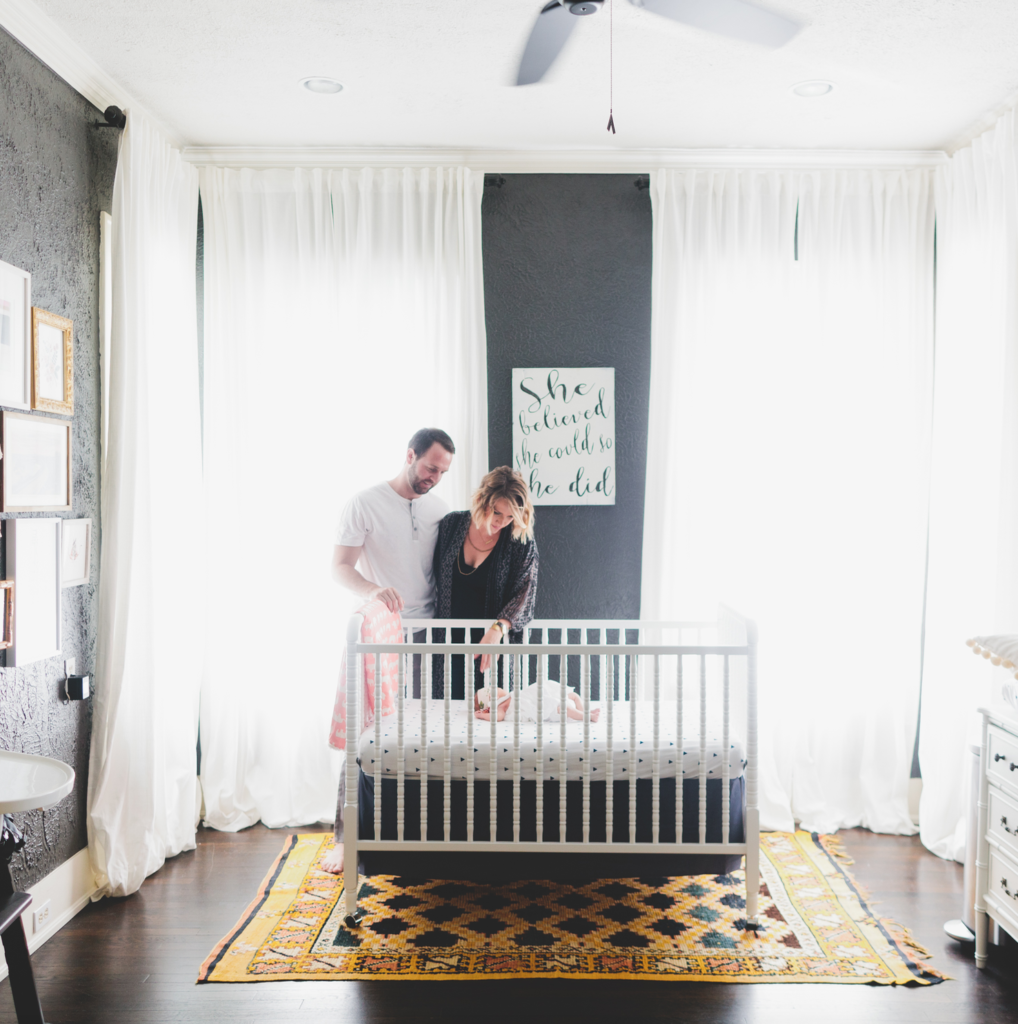 (Remaining Photos by Kelly Christine Photo)
When we moved, what would be Nola's new room, was super airy and bright. It reminded me of a tree house with a 15′ vaulted ceiling. This seemed to fit her bright personality perfectly. The intent was to reuse as much of her things as we could, but replace her crib with a big girl bed. I'm sparing you the sleep training saga of musical rooms with three toddlers, by the way.
But, with white walls, drapes and a dresser, I felt like I needed to add some warmth. I stumbled on the wicker bed at World Market one day and knew it was just the thing. It had such a good price point too.
The art was carried over from her previous room. I have long been a fan of Rifle Paper Company and used their travel inspired wall calendar to create a framed grid-style gallery wall using Ikea Ribba frames. One lesson learned – the Ribba frame is not super easy to hang consistently. You have to string the wire along the back and it's challenging to get it perfect every time.
Her lockers were such a happy accident. Kale found them on Facebook marketplace and when he went to go pick them up, it turned out to be a mutual acquaintance! I had them painted yellow to match the rug and it obviously adds a ton of storage.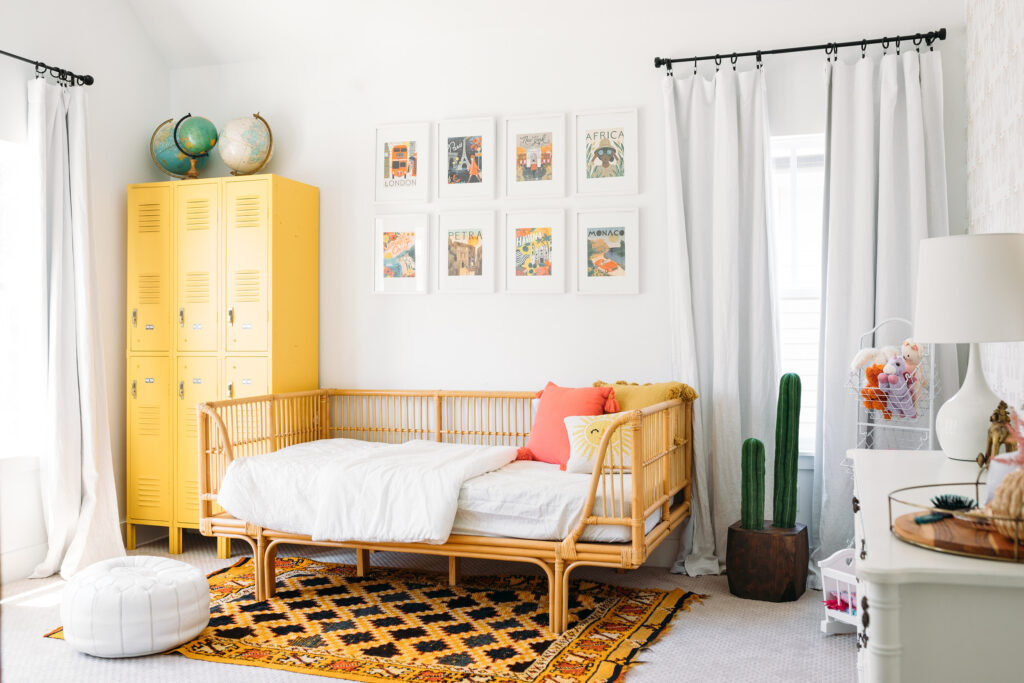 The rattan bookshelf was a thrifted find from Flea Style to create some balance for the bed on the other side of the room. I continued the theme of styling with global finds and treasures from our travels. To add height for such tall ceilings, I hung a small piece of art above. I have since switched the piece to a baby elephant print to tie in the wallcovering.
The key to kids rooms is ample storage. The difference between boys and girls, at least in our house, is that girls hoard everything. From stones to stuffed animals to little drawings, she has secret hiding places everywhere. So I try to give her places to stash things. Small baskets and boxes are always a welcome addition.
This led me to the large wall across from the windows. Tall ceilings are great, but can also be challenging design-wise. I knew I needed something here but I didn't want it to be too loud. The Serena and Lily Kalahari paper is just the cutest thing. It's neutral, but has such fun pops of coral and yellow. It adds the most unique touch to her room and really makes the space.
I really tried with all my might to thrift a mirror, but size and scale became a challenge. The big ones are pretty expensive and most of the other options were just too small. I snatched this from a Wisteria sale and while it doesn't look too large in this image – it's actually over 48″ tall.
The tassels add a little flair, which is right up Nola's alley. They remind me of the flags lining the marketplaces in Mexico and Thailand too.
I adore this metal touch lamp.. I've used it multiple times for personal use and for clients too. If you are working on a kids room, you absolutely need this lamp. It's durable, has multiple light options and is super affordable. If they ever discontinue it, I'll be in trouble because it is a go-to of mine.
Another design tip utilized here – a tray. Trays are the ultimate supporting actor in a room. They help contain messes and look good while doing it. These days, Nola stashes her quartz collection there and stacks leaves and flowers sometimes too.
Her room is truly the happiest room in the house! I'm sure her taste will change over the years, but I think we can adapt and switch things out so it can grow with her. I created some shoppable links in case you want to create the look for yourself!
SHOP THE LOOK
[show_boutique_widget id="1034294″]
XO, Aubrey